Microsoft Surface 3 First Impressions: Possible iPad Killer?
The new replacement for the Microsoft Surface RT shipped on May 5 with the ability to now run full Windows software, like the more capable Surface Pro 3. How does the new Microsoft Surface 3 stack up and does Microsoft finally have its iPad killer?
When a new owner first opens the Microsoft Surface 3, they will notice that there's not much to it. Microsoft grabs cues from Apple with the unboxing experience, like most manufacturers do today. The box opens easily and the Surface 3 comes out. Fire it up and there's plenty of battery life to get started. But then we hit a huge obstacle – over 70 updates for a brand new device.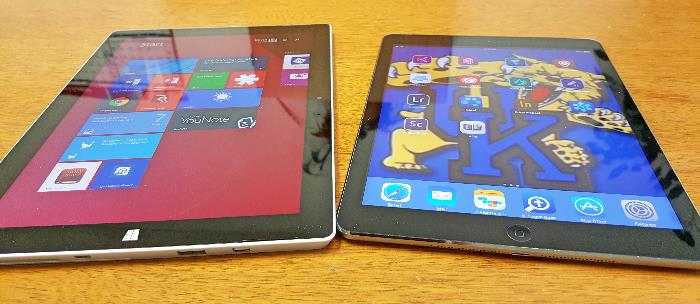 Microsoft Surface 3 Windows Updates a Killjoy
Microsoft pushed out the 70+ updates to the Surface 3 for two hours after first boot. This thing's brand new and already needs over 70 updates. That's inexcusable and Microsoft has to find a way to put more recent builds of their operating system on brand new devices.
The user can use their shiny new tablet during this update period, but they'll need a really fast Internet connection if they want to download apps or full Windows software while grabbing updates. Instead the user can only play inside the Windows 8.1 user-interface while they wait. That won't fill two hours, unless the person's never run a Windows computer before.
Microsoft Surface 3 Hardware
Anyone who's ever used a Microsoft Surface tablet of any kind will feel comfortable and familiar with the Surface 3. Aside from shrinking it to a ten-inch screen and moving ports and buttons around, it looks nearly identical and weighs less. That's a good thing!
The front looks identical. The wide bezel makes it easy to hold. Along the edges we get mostly the same ports and buttons. Microsoft moved them around a bit on the Surface 3 when compared to the Surface Pro 3.
One of the two biggest external hardware differences is a micro-USB charging port instead of the proprietary magnetic charger on the Surface Pro 3. It also works as a second USB port for connecting accessories and drives.
Second, the Surface 3 kickstand has three positions that snap into place when the user pulls it away from the back of the tablet, unlike the Surface Pro 3 kickstand. It moved smoothly, making it possible to stand the larger tablet at any angle. The Surface 3 will also work in a fourth angle if the user puts enough pressure on the kickstand. Microsoft designed it with a breakaway feature. If someone puts too much pressure on the stand, it snaps down to nearly flat. I wouldn't do it too much since this could damage the tablet, but this will work if such an angle becomes necessary at some point.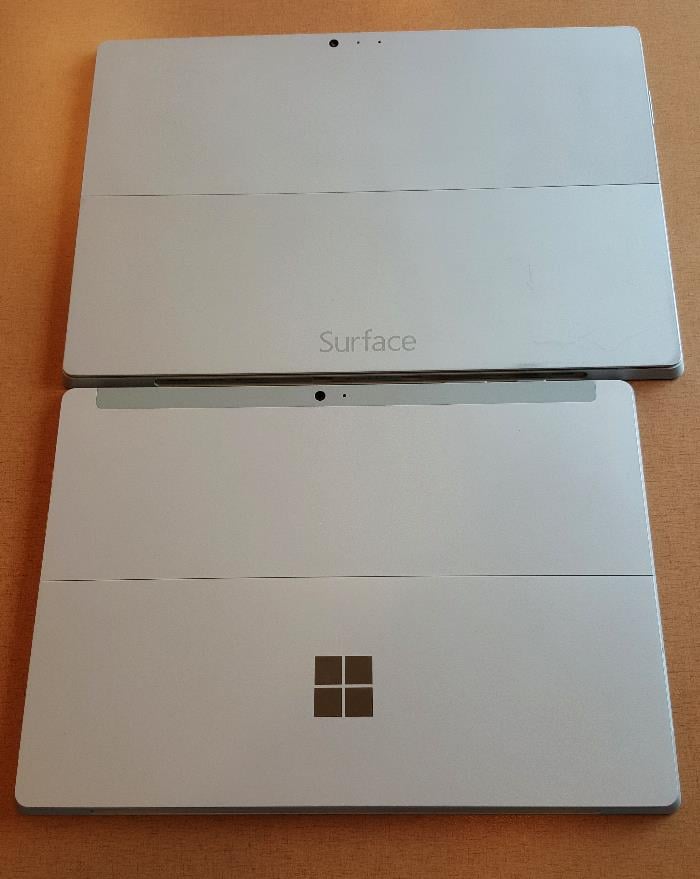 On the back, Microsoft branded the tablet with a Windows logo instead of the Surface name.
Owners will still enjoy the …
Full-size USB port
Front and back cameras
A micro-SD card slot hiding under the kickstand
Mini-DVI output for connecting to external displays
Microsoft Surface 3 Performance
Thanks to the quad-core Atom processor, the Surface 3 doesn't need any vents. It doesn't seem to run that hot either. However, it does run with adequate speed to power most low-end Windows software and all the Windows Store apps. There's enough power for some multi-tasking. Just don't get carried away. I opened every single Windows Store app installed, about 30, and it still responded quickly.
One of my programs requires a lot of horsepower to run. On the Surface 3 it runs, but not smoothly. It works better than it did on the Toshiba Encore 2 Write reviewed recently.
Microsoft Surface 3 Accessories
Owners of the Microsoft Surface 3 can invest in a few Microsoft accessories. I'll highlight these and give more detail in a future post, but I wanted to give first impressions of the Type Cover and Surface Pen. In addition, they sell a dock like the one for the Surface Pro 3, some mice and the awesome Microsoft Wireless Display Adapter reviewed earlier.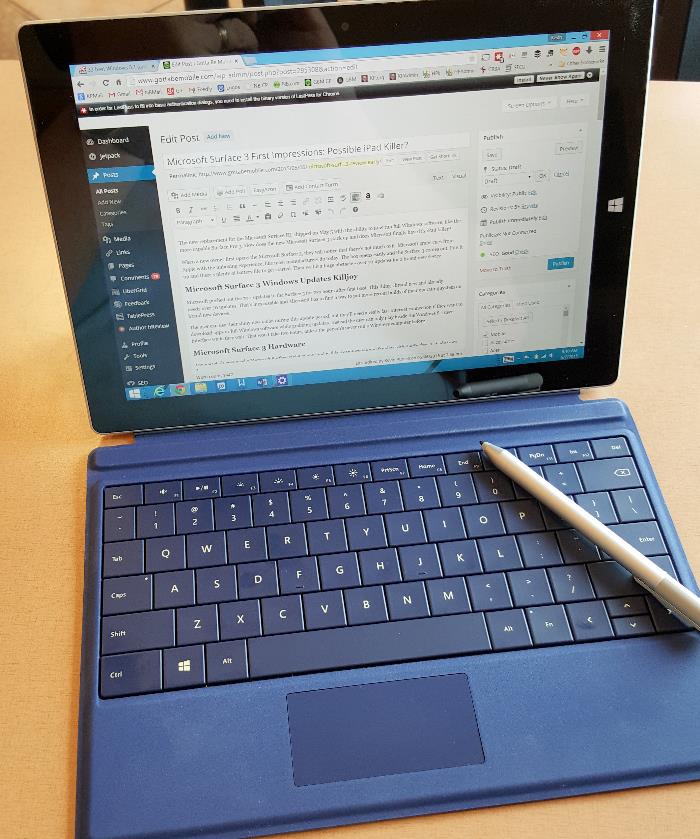 Microsoft hides the true cost of the Surface 3 and Surface Pro 3 by making they Type Cover a separate purchase. It's also an expensive accessory costing $130. Now, they also hide the cost even more by leaving out the Surface Pen. That's an extra $50, bringing the total to $680 for the Surface 3 with 2GB of RAM and 64GB of storage. Add $100 for the Surface that people will really want, the one with double the RAM and storage.
I've read some complain that it's not fair to lump in these accessories since Apple doesn't include a pen or a keyboard either. However, an iPad and its apps work better without them than Windows and desktop apps. People who will never run regular Windows software can get away without the pen or the keyboard. Buyers can also look for a cheaper keyboard an a regular stylus that won't work as well but cost less.
The new Type Cover for the Surface 3 fits perfectly like the Surface Pro 3 Type Cover. It's amazingly comfortable to type on despite the narrow measurements. The smaller trackpad works. That's the only good thing I can say about it. Use the pen and touch to do all your pointing. Follow this simple guide to turn it off if you keep tapping it accidentally while typing.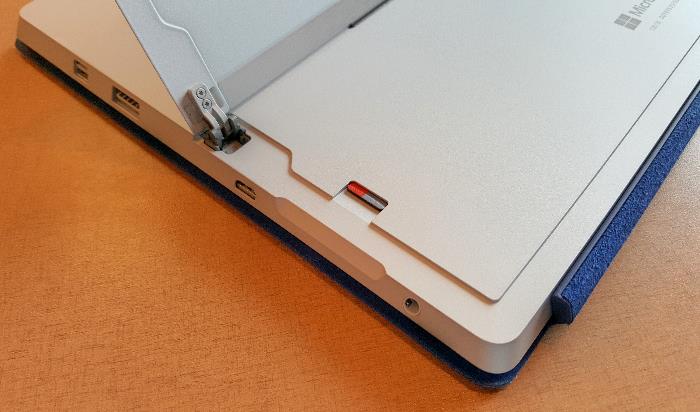 The pen gave me fits at first. When I first opened the Surface Pro 3 it went through a setup process that connected the pen with the tablet. Since they left the pen out of the box, they didn't do that this time. The Surface Pen worked with the Surface 3 without any pairing, but it didn't work well. Often taps did nothing. I kept needing to press buttons to make it work. Then I went into settings and removed it and paired it again. Now it works consistently.
For people experiencing the same problem, follow Solution 2 in the troubleshooting guide at Microsoft.
Microsoft Surface 3 Compared to iPad Air
How does the Microsoft Surface 3 compare to the Apple iPad Air? The hardware alone feels superior in function but inferior in design style. In other words, the Surface 3 offers better function, but the iPad Air looks prettier. Which one matters to you? I prefer function. Here's a list of things I can do with the Surface 3 that I can't do with the iPad Air:
Connect a USB hard drive, mouse, keyboard or other accessories while charging the tablet
Connect the above without the need of a dongle
Stand the tablet up on a flat surface without need of a stand or case thanks to the kickstand
Use Miracast built into the Roku 3 and many other devices
Run full desktop software
https://www.youtube.com/watch?v=vPto6XpRq-U
That's an impressive list, but it's not the only important list. Here's some things I can do with an iPad that I can't do with the Surface 3:
Run a huge library of touch-friendly apps that offer quality and function
Cast the screen to an Apple TV
Buy from a ubiquitous selection of accessories in almost any electronics or office supply store and even at some gas stations
Run the same operating system as one of the most popular phones on the market, which often means buying apps once to use on both phone and tablet
The second list boils down to two things, both of which result from the iPad's popularity. First, iPad owners can use more apps that usually work better than Windows Store apps. Second, accessory makers offer millions of cases, docks, stands, chargers and more for the iPad. We don't get many for the Surface 3 because it's too new. Even if it becomes as successful as the Surface Pro 3, we still won't see as many choices as iPad owners get.
There's hope when it comes to apps. Microsoft announced at their recent conference for Microsoft developers that they will make it very easy to port Android and iOS apps over to Windows. Even if that materializes as they promise, it will take some time.
Bottom Line on the Surface 3
Microsoft did a great job making a very nice tablet. It's a bit under-powered, but runs any Windows Store app and many basic desktop applications really well. Some other reviewers said it slows down a lot with too many tabs open in a browser window or with more than a couple of programs open. That's true, but the slow-down didn't bring the Surface 3 to its knees. It's incredibly functional.
The hardware looks and feels good. We get a lighter Surface with most of the same functionality at a lower price. People who wanted a Surface Pro 3 but couldn't afford it should consider the Surface 3. Buyers deciding between the iPad and the Surface 3 should look at the lists above and decide what's more important. A bigger selection of apps and accessories? Or running desktop software and hooking up USB accessories.