Microsoft Surface 3 Review
It's hard not to compare the new Microsoft Surface 3 to it's more expensive and powerful big brother, the Microsoft Surface Pro 3. However, it's more fitting to compare it to previous Microsoft Surface RT devices since it's closer to their price range and performance. With that in mind, the Surface 3 comes out on top easily thanks to more power and the ability to run full Windows software, which the Surface RT cannot do.
When the Microsoft Surface Pro 3 came out last year, Microsoft had a hit. Even some of the most ardent Mac fans I know find themselves intrigued by Microsoft's laptop and tablet replacement. It sold well and garnered lots of interest, but some people couldn't afford it even after a price drop. Microsoft cancelled the Surface RT, which would not let users install anything but apps from the Microsoft Windows App store. The new Microsoft Surface 3 solves both problems with enough features and power to make it a great lower-price alternative to the Surface Pro 3. Yet the new Microsoft Surface 3 comes with more power and functionality, making it a huge upgrade over the Surface RT.
[ratingbox]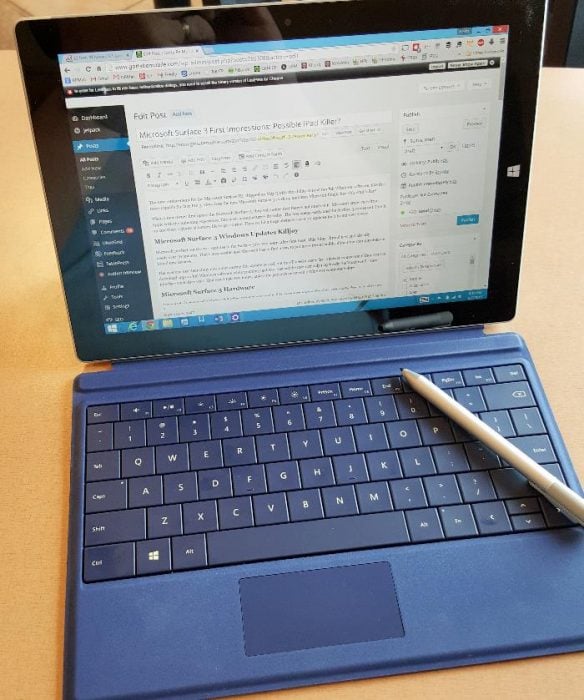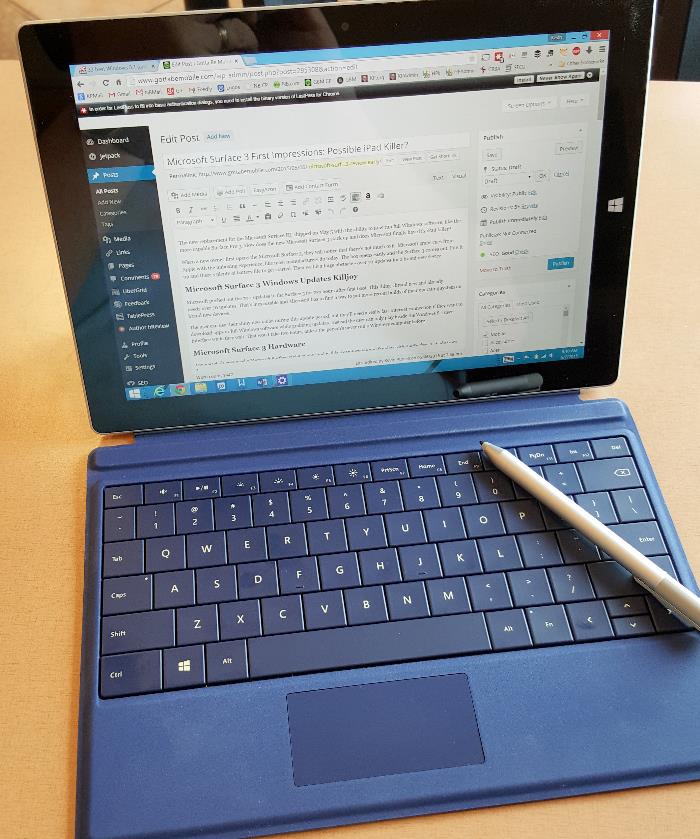 The Microsoft Surface 3 appeals to people who want a Windows tablet that can run full Windows software in addition to Windows Apps (what Microsoft used to call Modern Apps or Metro UI apps). It's hard to find good Windows Apps, but that problem is not a big as it used to be and hopefully the company's attempt to woo Android and iOS developers will pay off. They recently announced that they'll help developers port their apps to Windows with some upcoming developer tools. If that happens, the Microsoft Surface 3 will become even more enticing.
Please see 45 Essential Microsoft Surface 3 Windows App.
Microsoft Surface 3 Review – Design and Internals
Anyone familiar with the Surface Pro 3 will wonder if Microsoft merely shrunk it to fit a smaller 10.8-inch screen. After some closer inspection they will notice that there's more of a difference than the screen size both outside and inside. We get the same high-quality Magnesium alloy with ceramic finish and chiseled edge design. It feels comfortable to hold and lighter than the Surface Pro 3. It's not iPad Air 2 light, but at some point the difference becomes negligible. It never felt heavy after holding it for hours of evening use. The black thick bezel around the screen gives the holder plenty to grip and the balance feels good.
It's comical how Microsoft touts the 3-position kickstand as if it's an improvement over the smoother kickstand that holds up the Surface Pro 3 at any dozens of possible angles. This worried me, since I love the Surface Pro 3 Kickstand's versatility. In practical use, the 3 position Kickstand makes the Microsoft Surface 3 usable. I can't remember ever wishing I could prop it at a different angle than those available with the 3 positions.
The specs of the Microsoft Surface 3 might scare some users away. It's not a powerful device thanks to the quad-core Intel Atom x7-Z8700 processor. The cheaper version comes with only 2GB of RAM and 64GB of storage. Steer clear of that model and pay the extra $100 for 4GB of RAM and 128GB of storage (totaling $699). The operating system and recovery partition take up almost of a third of the 64GB on the lower-end Surface 3. Power users may think they can delete the recovery partition, but if it's like the Surface Pro 3, that's not advisable. The Surface Pro 3 won't boot even after following steps that work on most Windows computers with a recovery partition. If you want to try it with the Surface 3, get the image for your model at the download site.
Battery life ranges from eight hours for people who use it like I do up to ten without Bluetooth on and with the display brightness turned down to about 50%.
The tablet has enough power to will run all the Windows App Store apps you'll want to load at one time. It only bogs down when running power-hungry full Windows software like games or Adobe Creative Cloud programs. However, I could edit some JPG photos in Photoshop and do some simple video edits in Premiere.
Some people complain that the Atom-powered Surface 3 compares more favorably to a Chromebook. I love Chromebooks, but I've yet to use one with the same quality and versatility of the Surface 3. Windows machines can do more since they're not limited to web apps that run in a browser like a Chromebook.
Microsoft changed the charging cable connector from the proprietary magnetic connector to a micro-USB connector. I hoped this meant I could plug in almost any micro-USB cable that could charge my iPad, but most of them only trickle charge the Microsoft Surface 3. To get full charging, use the cable that came with it or find one that can supply at least 2.5 amps of power.
Microsoft Surface 3 Review – Features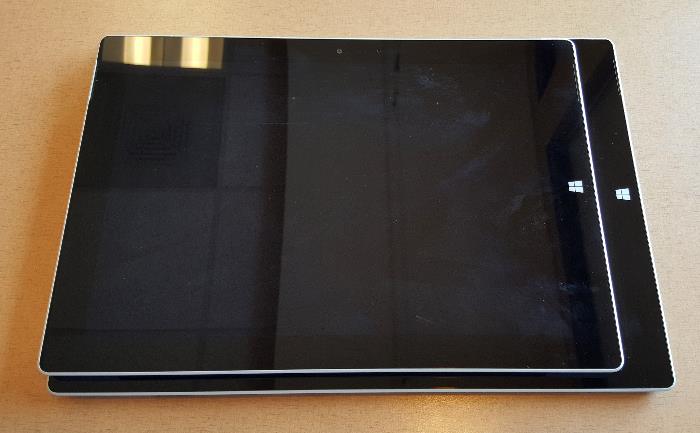 The Surface 3 stands out thanks to the beautiful display and the great Surface Pen. The high-resolution display (1920 x 1280) has an interesting 3:2 aspect ration. The resolution gives users better than 1080p HD quality. Text looks crisp and photos and videos look awesome. The 3:2 aspect ration is more square than a typical 16:9 display. The wider screen on a 16:9 display feels strange when holding it in portrait mode. However, the 4:3 display on a tablet like the iPad is too boxy for watching videos in HD. There's too much of a letterbox above and below the video.
The Surface 3 comes with both a touchscreen and an active digitizer. Users can input via touch or the precision Surface Pen. Taking notes and then using touch interchangeably takes some getting used to, but once the user does it works really well.
The Microsoft Surface 3 includes a micro-USB slot for charging, but it also works as another data port. Get a micro-USB to full-sized USB adapter and plug in accessories or drives to get a second port. There's also a full-size USB 3.0 port, a mini-Display port for connecting to an external display and a headphone/mic combo jack. The ports all sit on the right edge of the tablet. Under the kickstand on the back plug is a micro-SD card for expansion.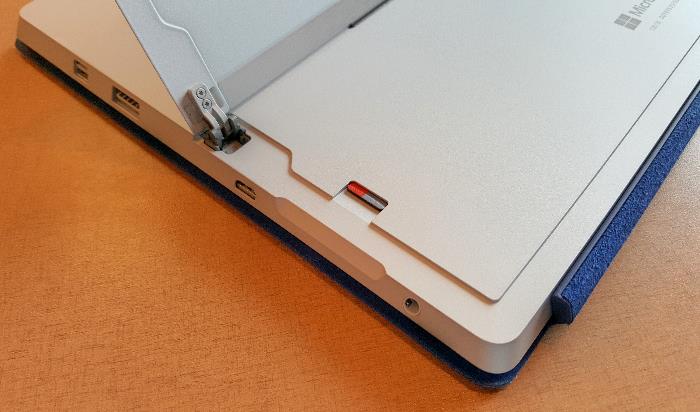 Microsoft put two more great features on the Surface 3. The kickstand already mentioned above means the user doesn't need a special stand-case like they do with other tablets or the iPad. Typing on the Type Cover feels comfortable and accurate in spite of the narrow size and my big hands. However, the touchpad on the Type Cover gets annoying quick. It's too small and too sensitive. The cursor jumps all over the screen when the user's palm barely touches it. I connect a Bluetooth mouse and then use the feature that turns the touchpad off when there's a mouse connected.
The Type Cover and the Surface Pen add $180 to the cost of owning a Surface 3. Microsoft advertises the Surface 3 with both in the every ad. Some unsuspecting buyers likely get shocked by the extra $180 it costs to get the tablet plus these essential accessories. At least with the Surface Pro 3 the company included the pen. It's unconscionable that they leave them out. Microsoft defenders will say that Apple doesn't bundle a pen or keyboard in their iPad box. That's true, but they also don't advertise with a pen or keyboard in every single ad they run.
The Type Cover and Pen come in multiple covers. Buyers could pick cheaper third-party alternatives, but those keyboards won't snap onto the tablet and connect instantly and a third-party stylus won't work as accurately.
Microsoft Surface Review – Value and Conclusion
Buyers with simple needs will love the Microsoft Surface 3. People can find cheaper Windows tablets, but they won't find a better Atom-powered Windows tablet. There's not a two-in-one with this much quality and versatility for the price. The Toshiba Encore 2 Write offers comparable power, but not comparable quality. The buyer will also need to buy a keyboard and find a way to prop it up with either a stand or a case.
Which Surface should you buy? Get the Surface Pro 3 unless you don't need the power, want a smaller 10-inch screen and/or don't have that much money. The Surface 3 offers a great alternative at a lower price. It runs most of the software that the average person will need to install. It's also the best option for Windows fans who don't want to carry both a tablet and a laptop and don't mind the small screen. It's definitely a buy! People who like the Surface RT, but hated that it didn't run full Windows software, will love the new Surface 3.