Microsoft Surface Book Pre-Orders: What to Know
Like it or not, Apple's high-end notebooks and desktops absolutely dominate the spaces they're in. By most accounts, the Apple MacBook Pro is the best high-end mobile workstation that users can buy. Microsoft sat idle for years, hoping that its hardware partners would provide a killer alternative running Windows to high-end buyers. Windows device makers weren't able to deliver. Now the company is hoping that the Microsoft Surface Book will.
Announced at the Windows 10 Hardware Event last week, the Microsoft Surface Book is both the company's first notebook PC and the biggest tablet we've seen in the Surface line-up yet. A 13.5-inch touchscreen acts as the brains and display of the Surface Book. A keyboard dock with a full-size trackpad, embedded keys and a bevy of ports completes the Surface Book experience. The two are bound together by an adjustable spine-like connector called the dynamic fulcrum hinge.
Read: Microsoft Surface Book Impressions
Microsoft Surface Book pre-orders kicked off last week. Here's what you need to know before you and after you pre-order the system.
Microsoft Surface Book Configurations & Pricing
Every Surface Book comes with the standard essentials. Each has a 13.5-inch PixelSense display with a resolution of 3000 x 2000 resolution. Unlike with the Surface Pro 4, Microsoft is bundling the hardware keyboard together with every system purchase. Where each configuration differs is in available RAM, storage, graphics processing and processor.
The line-up starts with the $1,499 Intel Core i5 Microsoft Surface Book with 8GB of RAM and 128GB of storage. Also available is an Intel Core i5 Surface Book with 8GB of RAM and 256GB of storage for $1,699. These models don't come with the discrete graphics processor that boosts the Surface Books performance for games and media creation. To get that discrete NVIDIA made processor shoppers need to purchase at least the Intel Core i5 256GB Surface Book with dGPU for $1,899. The Microsoft Surface Book with 256GB of storage, 8GB of storage and dGPU costs $2,099. Topping out the line is the 512GB Intel Core i7 Surface Book with 16GB of RAM and dGPU costs $2,699.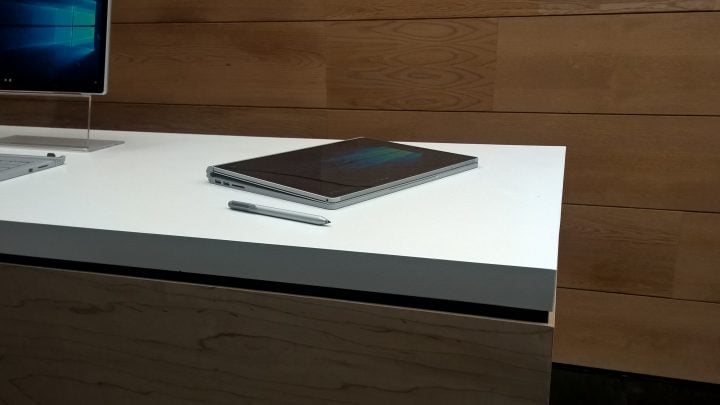 The Microsoft Store began taking pre-orders for the Surface Book last week, but they've become scarce lately. The Microsoft Surface Book models that don't come with a graphics processor built into the base are now showing shipping times of "5 to 6 weeks." All other units are still showing October 26 ship days, but Microsoft is forcing users to submit their email for an alert on when pre-orders for those units return. Best Buy and Amazon are still showing Surface Book as coming soon and available for pre-order.
There are Microsoft Surface Book Accessories Available Too
The Surface Book isn't a tablet that can emulate a notebook PC. Really, it's a high-end notebook that can emulate a tablet. Unfortunately, this means that a lot of the extras purchased for previous Surface devices won't work.
The Surface Book uses the same power connector from the Surface Pro 3, now called Surface Connect. This allows Surface Book buyers to pair the device with the new Surface Dock that's selling for $199. Every Microsoft Surface Book comes with a new Surface Pen that allows them to quickly open OneNote for note taking and summon Cortana, Microsoft's personal assistant. Buying the pen separately in different colors with the new artist tips costs $59.99.
Unfortunately, a lot of older accessories aren't compatible with this new device. The Surface Book has a power supply with more wattage than the original Surface Pro 3 charger. Old Surface Pens will still work too. Buyers aren't able to use the Surface Type Cover with a Surface Book because the Surface Book doesn't have a kickstand to prop up the display with. Old display adapters will work just fine. Check out the Microsoft Store website for a full breakdown of available accessories and extras.
The Surface Book Processors & Chipsets
Microsoft said very little about the processors and chipsets that are in the Surface Book at its event last week. Independently, PC World has confirmed the chipsets and processors that are inside all the new devices.
The outlet says that the Surface Book includes the 6th Generation 2.6-GHz Intel Core i7 6600U processor with Intel HD Graphics 520. 6th Generation 2.4-GHz Intel Core i5 Processor with Intel HD Graphics 520 is what's at the heart of the less expensive device. Some speculate that going with a model that has a discrete GPU and more RAM is better than maxing out the Surface Book with an Intel Core i7 Processor and a 256GB SSD for $2,100. We'll have to wait until performance numbers are in before we're actually able to judge that for sure.
Look Into Purchasing a Surface Pro 4 Instead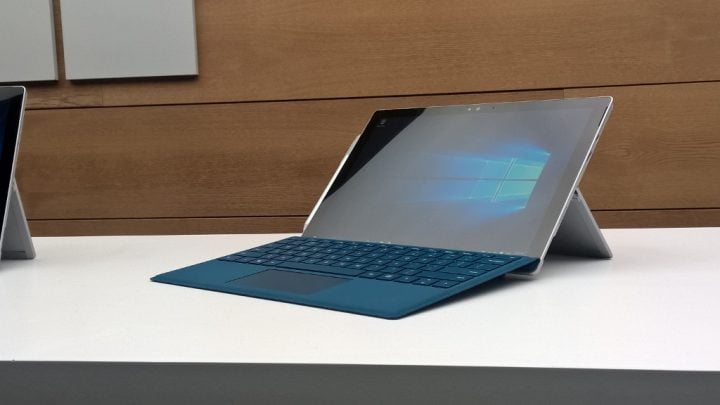 The Microsoft Surface Book is pretty pricey, there's no way to ignore that. $1,500 is a lot to spend on any device for most people. If you're looking into Microsoft Surface Book pre-orders and shocked by their prices, it's a good idea to look into purchasing a Surface Pro 4 instead.
Yes, the Surface Pro 4 does require an add-on Type Cover for $129 to become a true notebook replacement, but its configurations start as low as $899. That's way cheaper than the Surface Book. Microsoft is also selling last years Surface Pro 3 for as little as $699.
Read: Surface Pro 4 Pre-Orders: 5 Things to Know
Good luck with your Microsoft Surface Book pre-order. Again, Microsoft has set the Surface Book release date for October 26th.

This article may contain affiliate links. Click here for more details.