Microsoft Surface development takes a big leap forward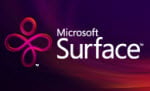 Big news bubbling out of PDC (Professional Developers Conference) surrounding Microsoft Surface. First, the Microsoft Surface SDK Workstation Edition is being offered freely to everyone via the Surface.com website, though the hardware needed to see if your stuff works will still set you back a few stones (or you could save a few bucks and build your own multi-touch surface display). Per the official Surface blog:
Now anyone interested in developing collaborative, engaging massive multi-touch, multi-user experiences for Surface can easily access the software at no cost through Surface.com. The Surface hardware is needed to deploy an application, and many use the Surface Developer units to create and test their applications directly on the device. The SDK Workstation Edition lets you use a PC to develop and a PC based simulator to test applications using multiple mice and tag simulation tools. We launched resources for developers, designers and IT Professionals.
And to get you thinking in the right direction, the winner of the Touch First Developer Challenge was also announced. Per the official announcement:
UID Portfolio is an interactive company presentation which provides an intuitive and innovative way to present a company's portfolio of services just by touching the elements on the screen.
Sounds dry, but check out the video demo (posted after the break) before you judge. Looks pretty darn sweet to me, like something out of Star Trek DS9.