Microsoft Surface Dock Review: Turn Surface Into a Desktop
The Microsoft Surface Dock turns your Surface Pro 4 or Surface Book into a desktop system. Plug all of your peripherals into your Surface Pro 4 or Surface book quickly with one connection. How well does it handle all those connections and is it worth the price for the convenience it offers?
The Microsoft Surface Pro 4 does the best job of transforming between a laptop and a tablet. It's fairly light and portable, but large enough to use like an ultra-portable notebook. The Surface Type Cover keyboard feels good and the touch screen on the Surface Pro 4 makes up for the terrible trackpad included in the Type Cover.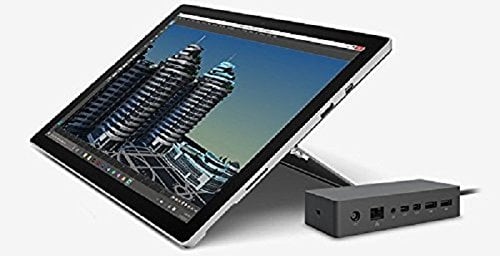 A Surface Dock can transform the Surface Pro 4 or Surface Book into the most versatile Windows computer available. The tablet surprises many users with the level of computing power included in the Surface Pro 4. The processor, memory, and storage can handle almost all of your Windows computing needs. However, some people may want a larger 22-40 inch screen and a desktop class keyboard and/or mouse. Wi-Fi's great, but some people also need wired networking on occasion. They might also like to connect a few USB peripherals, like a printer, a backup hard drive or more. That's why the Microsoft Surface Dock ($199.99) makes sense.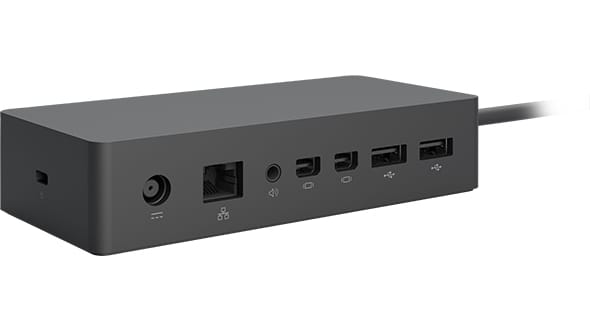 Microsoft Surface Dock Design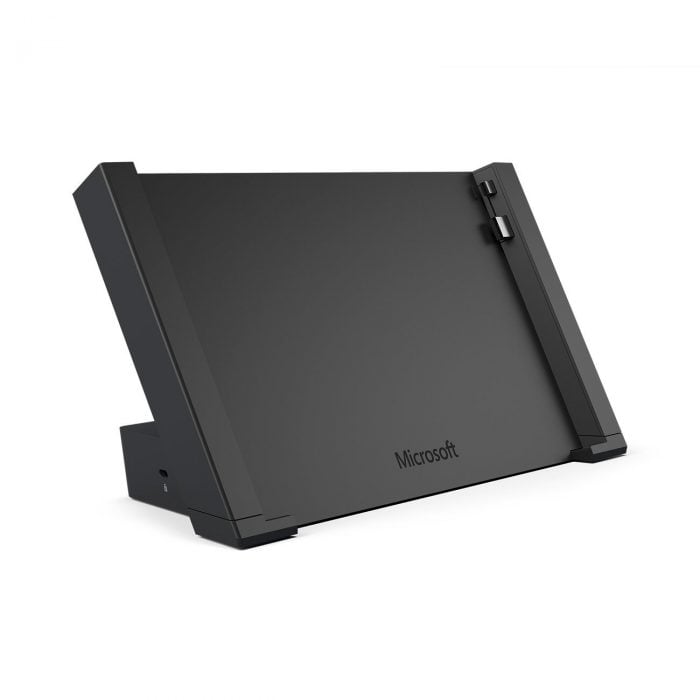 The old Microsoft Surface Dock seen above transformed the Surface Pro 3 into a great desktop system but the Dock took up a lot of space. Microsoft changed the design to give it a smaller desktop footprint. It potentially will connect to every Surface device in the future so long as they continue to include the same proprietary connector. Plus it's backward compatible with the older Surface Pro 3.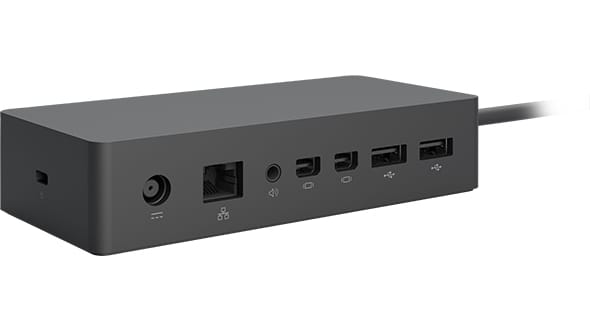 The Dock measures only 5.12 x 2.36 x 1.18 inches and weighs 1.21 pounds. It comes with a cumbersome power brick. This design means the user can hide the power brick and AC connector in an out-of-the-way place. The Dock itself won't take up that much space on your desk or table.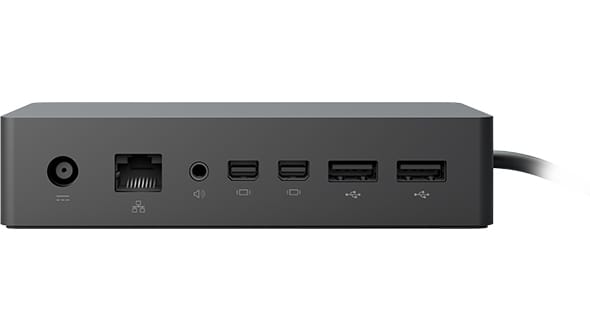 The Dock includes connectors for the following ports:
2 Mini Display Ports – hook up to an external monitor or another accessory
1 Gigabit Ethernet port
4 USB 3.0 Ports (2 on back and 2 on front)
1 stereo out port
The power supply connector
The SurfaceConnect cable that hooks up to the side of the Surface devices
1 Kensington lock on side
The Mini Display Ports work great on monitors, although some have struggled when connecting two monitors. It worked fine with two 1080p external monitors so it seems Microsoft worked out this bug. The Ethernet port speeds were comparable with my regular desktop computer and my MacBook Pro. Everything I connected to the Dock worked flawlessly.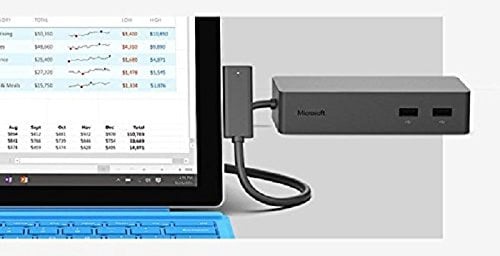 Microsoft Surface Dock Value
Users will need to weigh the $200 cost with the convenience of a single connection for all their peripherals. If someone often brings their Surface Pro 4 or Surface Book home and connects to a monitor, desktop class keyboard, mouse and other devices,  then the Microsoft Surface Dock is a great buy. Office users will love it, too. Students can take one computer to college and get that desktop usefulness in their dorm room while enjoying the Surface as a tablet/laptop. The Microsoft Surface Dock doesn't take up much space and quickly connects all my devices.
People who don't need to connect their Surface to external peripherals that often should save their money. It's not worth $200 if you would use the Microsoft Surface Dock a few times a month.
Some users might want to consider another option. You can buy cheaper docking systems, some with fewer features and others with more. Search for universal laptop docking stations on Amazon and you'll find dozens of designs.
If you connect more than one brand of computer, then a universal dock makes more sense. They generally cost closer to $100-$125. For example, Sabrent makes an interesting model seen above. It comes with a notch on the front to hold a tablet at a decent viewing angle. It's less than $100 and includes connections for USB 3.0, Ethernet, and dual video display ports (1 HDMI and 1 DVI).
While I didn't experience any issues while using the Microsoft Surface Dock, other customers did. We already mentioned above the problem some had connecting two external displays. It seems more common when people connect 4K displays. Also, some reviewers at the Microsoft Store claim that it interfered with wireless devices.
I'm recommending the Microsoft Dock since it worked flawlessly for me and saves a lot of time every time I bring my Surface Pro 4 home and hook it up. I'm immediately ready to use my system as a desktop computer with a great Logitech keyboard and the Logitech MX Master mouse included in our 25 Awesome Microsoft Surface 3 Accessories You Need to Get.

As an Amazon Associate I earn from qualifying purchases.