Microsoft Surface Pro 2 Review: Microsoft's Tablet Becomes an Even Better Laptop
Given the precarious timing of the Surface Pro 2's availability this year–it was sold at Microsoft retail stores on the same day as Apple's iPad Air and Mini 2 launch event–it's easy to overlook the fact that the Surface Pro 2 packs far more power than a traditional consumer tablet. In fact, Microsoft's Pro line of Surface tablets may be more evenly matched against Ultrabooks than tablets, and the second generation Surface Pro, dubbed the Surface Pro 2, continues Microsoft's endeavors to pack as much power as possible into an ultra-portable 10.6-inch form factor thanks to noteworthy upgrades like an improved display, inclusion of Intel Haswell processor, deeper cloud integration, and more SSD storage options.
At first blush, this year's release–about 10 months after the original Surface Pro initially debuted–is all about incremental improvements. You won't find any major redesigns from a hardware perspective, and many of the changes will be under the hood–a Haswell processor, more configuration options, a better display, and a clever kickstand that engages in two different stages for a more reclined screen angle when using it on a low surface or on your lap.
Starting at under $899 for 64 GB, is the Surface Pro 2 a device that can replace both an Android or iPad tablet and a conventional Mac or PC notebook in your work flow?
Under the hood, the most notable improvement to the Surface Pro 2 this year is Intel's fourth generation processor. Equipped with a dual-core Intel Core i5 processor clocked in at 1.6 GHz and Intel HD 4400 graphics, the Surface Pro 2 is a speedy and svelte machine that will rival most Ultrabooks.
The best part is that the Haswell processor allows the Surface Pro 2 to go untethered from a power outlook for up to 6 to 8 hours at a time where the original Surface Pro barely broke 3 hours of battery life on a single charge. This should provide all-day productivity without range anxiety and will allow road warriors to carry the Surface Pro 2 between meetings without having to worry about recharging the device, which is a big boost as a tablet since competing Android and iPad tablets hover at around 10 hours of battery life.
And while the Surface Pro 2 is a fast machine that's capable of handling most tasks, don't expect to run graphics intense multiplayer games on the machine. In my testing of the system, it was able to handle basic video editing on Adobe Premiere Elements, a few Photoshop corrections, and Microsoft Office fine, but more intense applications activated the fan. Unlike the Surface 2, which runs on Microsoft's Windows RT OS, the Pro 2 doesn't come with Microsoft Office so you'll have to pay for a license on your own. Also, the Surface Pro 2 runs on Windows 8.1 Pro, so this means that with Intel's processor powering the operations, you'll have access to all the legacy programs designed for Windows 7 and earlier whereas Windows RT on the Surface 2 is limited to new apps designed for the Modern UI.
Another battery saver this year is that the fan is tuned to not turn on as frequently. In normal operations, the Surface Pro 2 is silent, with the fan only activating when you're running either processor- or graphics-intense apps, games, or programs. As the fan doesn't kick on as much, battery life is saved and you won't be bothered by the whirling noise. The fan is located behind a small slit on the top edge of the tablet. Under normal use, the Surface Pro 2 does get warm, but never gets uncomfortably hot. Even when held in your hands as a tablet or placed on your lap, the Surface Pro 2 does a good job keeping heat under control.
And if battery life enabled by Haswell is the most significant improvement under the hood, the most noticeable physical change happens on the rear of the Surface Pro 2. This year, the Surface Pro 2 comes with a dual-stage kickstand that opens in two different angles, allowing for more versatile operations.
Open up the kickstand to the first notch and the Surface Pro 2 opens at the same nearly vertical angle that the original Surface Pro came with. This isn't really that bad, even when using the Surface Pro 2 on a lower surface or on your lap thanks to a gorgeously bright display with wide viewing angles. However, if you continue to open up the kickstand to the second notch, which snaps into place with a reassuring and satisfying click, the Surface Pro 2's display reclines back even further and allows you to view the screen better when using the Surface Pro 2 on a lower surface. The lower screen angle also brings down the Surface Pro 2's center of gravity, which adds stability to the tablet if you're using it on your lap as a laptop, making it a much better experience overall.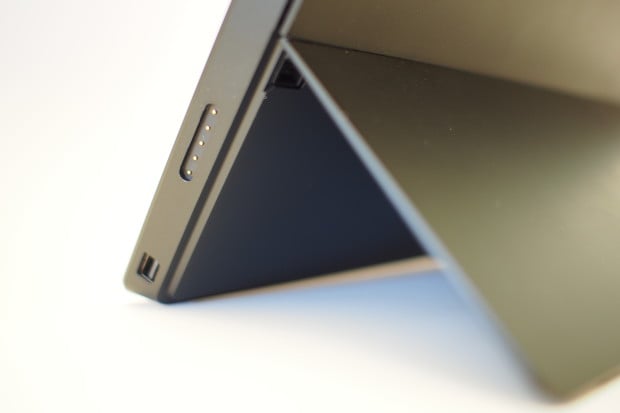 And though the magnesium alloy kickstand snaps into place in a very solid manner–you won't feel like you'll break it or snap it apart thanks to an exceptionally high level of build quality–the only complaint is that it may be a bit difficult still to open and engage the kickstand from the back of the Surface Pro 2–there is only a single notch on the left side of the Surface Pro 2 where you would insert your finger to pry out the kickstand.
On the front of the tablet, you'll get an improved 1080p full HD display. The ClearType-enabled display on the Surface Pro was already vivid and beautiful with wide viewing angles, and on the Surface Pro 2, Microsoft says that the 10.6-inch display has a wider color gamut for even better color accuracy. This should bode well for digital artists and those who rely on the Surface and its Wacom active digitizing pen for creative work.
Speaking of the Wacom pen, it works out of the box with any Modern UI app from the Windows Store. Legacy programs, like Adobe's Photoshop and Corel's suite would require users to download a driver from Microsoft. Once that is done, the Wacom-powered pen allows for over 1,000 levels of pressure sensitivity and provides for accurate drawing and control with no noticeable lags or delays.
And though the screen is nice, the thick bezels are really noticeable when you're looking at a smaller 10.6-inch footprint of the Surface Pro 2. I suppose that the thicker bezels are required given the Surface Pro 2 is meant to also be used in tablet form factor, giving users an area to grip the 2-pound slate, but in laptop mode with the Type or Touch Cover attached, the thick bezels do look out of place on such a modern device.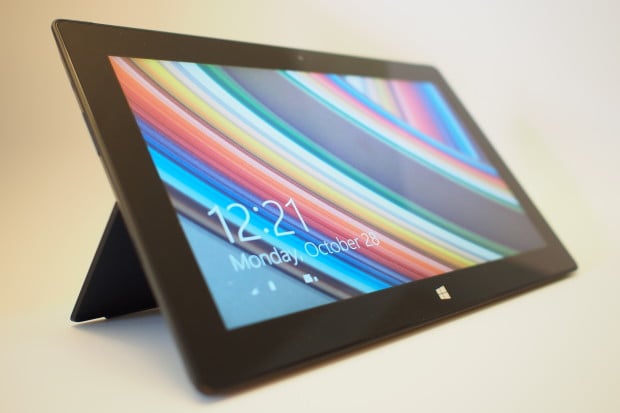 You'll get a pair of cameras on the Surface Pro 2–one on the front and one on the rear–which would work well with Skype video calls. Microsoft is giving customers a year of Skype calling and two years of 200 GB of free SkyDrive cloud storage with a Surface purchase. This is good, but you'll likely be using your phone's camera or a dedicated camera to capture many of your pictures as neither camera on the Pro 2 is really that great.
The Surface Pro 2 is a minimal device, and you'll find very few ports on this tablet. On the left side, you have a headphone jack, a volume rocker, and a single USB 3.0 port. The lack of ports may be off-putting for power PC users, but a USB 3.0 port is still something that a lot of Android tablets still lack and is something that isn't even available on an iPad. For users who rely on flash drives or USB peripherals like a mouse, printer, scanner, or other device, a portable USB hub may be required. Fortunately, Microsoft also has an optional desktop dock that is coming early next year for users looking to get more expansion out of the Surface Pro 2 when used in the office or at home.
The top edge is clean and clutter-free with a single power button.
And on the right side, you'll have a micro SD card slot, rather than a full SD card slot, plug-in connectors for a magnetic power cord a la Apple's MagSafe connector on the MacBook series. Microsoft says that it has improved the charging port so that the charging cable engages more easily for charging, requiring less fumbling from the user in trying to connect the cable to the Surface Pro 2. The nice part about this magnetic cable mechanism is that if you trip over the cable, the magnet will unlatch and the Surface Pro 2 won't fly across the room to its impending death. And if nothing is happening, the magnet is still strong enough so that the cable is securely attached to the tablet to give your slate a charge in 2 to 4 hours. On the right side, you also have a port for a Mini DisplayPort connector as well so that you can connect a larger monitor.
On the bottom of the Surface Pro 2, you'll find a port with pins. This port will securely attach a Touch Cover 2 or Type Cover 2 to the Surface Pro. When these keyboard covers are attached, a strong click sounds off and you can even dangle the Surface Pro 2 upside down while holding onto the covers and the tablet won't fall out, showing how strong the magnet is.
This year, Microsoft also made some subtle changes to the covers. I chose to go with the Type Cover 2, which comes with physical tactile keys. Though the keys are rather shallow with minimal travel when compared to a full keyboard on a laptop, the large keys of the Type Cover 2 offers a really great and accurate typing experience. This year, the keys offer variable backlighting so you can type comfortably in the dark. Additionally, the trackpad on this year's model is felt-like in the same material used for the arm rest, which offers more texture. The trackpad is small, but is still nice to have so you're not always reaching for the touchscreen in Windows 8.1's touch-centric UI. There aren't physical left and right click keys on the trackpad itself, but an area marked on the trackpad shows where you can press down to get similar controls. This allows Microsoft to maximize the trackpad surface in the little space.
On the Touch Cover 2, the touch is more sensitive and Microsoft added similar backlighting as on the Type Cover 2. The Touch Cover 2 doesn't have physical keys and is more akin to typing on a screen, so the cover itself is quite a bit slimmer and lighter than the Type Cover 2.
Microsoft will also be releasing other cover accessories for the Surface line in the future, including a keyboard cover with an integrated battery so users can get more battery life on a single charge.
And though the Surface Pro 2 has guts that make the device more similar to an Ultrabook than a tablet, the keyboard covers are sold separately. The Type Cover 2 is $130 and is available in black, blue, and purple. The Touch Cover 2 comes in a variety of colors and is available for $120.
Internally, Windows 8.1 is powered on Intel's Core i5 processor and the 64 GB ($899) and 128 GB ($999) configurations come with 4 GB of RAM. Stepping up to the more expensive 256 GB SSD storage ($1299) and 512 GB ($1799) configurations will bump the RAM to 8 GB. I would recommend users start their Surface Pro 2 shopping experience with at least 128 GB RAM as the standard Windows 8.1 Pro installation consumes a sizable portion of your SSD allocation. Additionally, the Surface Pro 2 is more than just a consumer tablet for streaming Netflix and YouTube and reading Amazon Kindle titles; it is a full-fledged PC after all where you will be installing legacy programs (Adobe Creative Suite, Microsoft Office, and other titles) as well as newer Metro UI apps so you'll be consuming storage and memory as you would on a desktop or notebook and most users will likely want easy access to many of their files without having to plug in an external hard drive or locate a WiFi hotspot to get onto the cloud.
Another downside with the Surface Pro 2 hardware is that it doesn't support the faster 802.11ac WiFi protocol for faster data speeds. Still, the device is plenty fast and most users likely won't notice any slowdowns unless you have an extremely fast modem and an 802.11ac router or base station.
In terms of handling and build quality, the Surface Pro 2 is still a very elegantly appointed and well-built tablet, carrying forward its beautifully crafted metal construction from the first generation. To achieve this, the Surface Pro 2 is nearly impossible to repair or upgrade. Microsoft sells a Surface Complete extended warranty, which may be something to consider for the Surface Pro 2 in case of accidental damage. But the point is that you'll likely want to choose your storage–and by proxy RAM–configurations carefully as you cannot upgrade the SSD yourself after you buy the tablet. The only way to increase storage would be to use a USB flash drive, a micro SDXC card (that currently caps out at 64 GB), or rely on the cloud (Microsoft is kicking in 200 GB of SkyDrive storage for 2 years).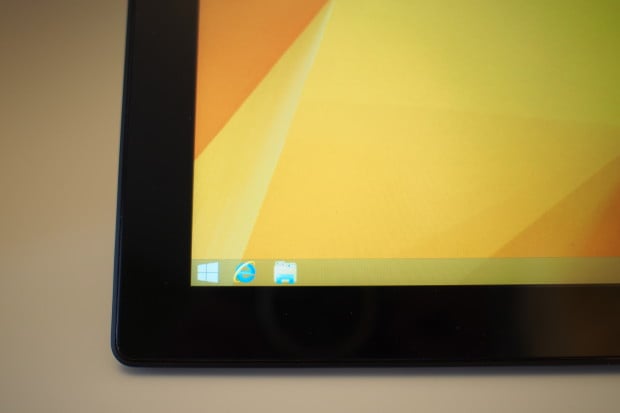 The Surface Pro 2 is also a nice complement to the new Windows 8.1 Pro release. The most noticeable change to Windows 8.1 when you power on the Surface Pro 2 is the return of the Start button in the classic desktop mode on the device. The Start button is different than on Windows 7 and earlier builds of the desktop OS. When you press it, it will take you to the Modern UI on Windows 8.1 with the Live Tiles, rather than give you a list of programs and settings. When you long press or right click on the Start button, you get more advanced settings.
Also, out of the box when you set up your Surface, Microsoft is really pushing its cloud initiative. You'll have to sign in–or sign up for–a Microsoft ID, which will give you a Live.com, Outlook.com, or Hotmail.com email address, Skype ID, and SkyDrive login.
There is a good reason for this step. With Windows 8.1, SkyDrive is even more deeply integrated. The app is preloaded and in the Modern UI, SkyDrive will give you the resemblance of a file directory. This year, SkyDrive files aren't automatically synchronized to your tablet so you won't waste space. You'll see all the locally stored and cloud-stored files. With files stored in the cloud, once you click on them to open them, the file will then be downloaded to your Surface Pro 2. Additionally, with your Microsoft ID, your bookmarks, search history, passwords, and other settings are carried over from an old PC to a new so your Internet Explorer experience is now synchronized.
Bing search also gets an overhaul. By accessing the search function with a swiping gesture from the right edge of the Surface Pro 2, the search function is a universal search, allowing you to search apps, content within apps, and also the Internet via Bing. Search results from the Internet are delivered in a card-like UI. It's elegant and useful, and a nice way to search without having to open the browser.
There are other subtle tweaks, enhancements and additions. Xbox Music is something to consider. The Windows Store also got a big overhaul. Additionally, for the OCDs out there, you can now use the same desktop wallpaper both on the Modern UI and in classic desktop mode.
The Surface Pro 2 delivers plenty of punches to help Microsoft continue to promote its desktop-class Windows 8.1 operating system, but as developers continue to create worthy alternative apps for consumer OSes like Android and iOS, the Surface Pro 2 may still remain a niche device. Consumers likely will clamor towards cheaper iPad and Android tablets. Prosumers and enterprise users will likely find the value in the Surface Pro 2, but given its high cost of entry and a less portable design, the Surface Pro 2 may not be a mass market success in the same way that the iPad mini is.
Conclusion
While the sum of the incremental improvements that Microsoft has made on the Surface Pro 2 is far greater than each individual part, the Surface Pro 2 continues to be a machine of compromises. You'll likely be able to find a better Ultrabook experience out there if you searched hard enough, and as a tablet the Surface Pro 2 has plenty of competitors that are equally worthy in both the Windows camp as in the Android and iOS arenas.
In the Surface Pro 2, what Microsoft has created is an elegantly crafted device that's strong, sturdy, and at the same time beautiful. The build quality is exceptional and is truly one of the first tablets to really rival the iPad in terms of craftsmanship. However, the compromise here is that the internals of the Surface Pro 2 is not serviceable so you'll likely have to choose your configuration carefully–there is no way to swap SSDs or RAM for better components later.
With a focus on strong performance, long battery life, keyboard covers, durable build quality, a vibrant display, and slim form factor, the Surface Pro 2 represents the fruition of Microsoft's vision for the tablet. However, in late 2013 do the fruits come too late at a time when Samsung is dominating the Android slate category with its Galaxy Note and Galaxy Tab lineup and rival Apple has found unprecedented success with the iPad and iPad mini?
There is still a lot more that Microsoft could have done with the Surface Pro 2. There is no option for mobile broadband or 4G LTE support. While the display is beautiful, the iPad mini Retina Display and Samsung's Galaxy Note 10.1 2014 Edition boasts much better resolutions than the Surface Pro 2. And despite the gains in battery life, both consumer tablets that we just mentioned boast even better battery life. In terms of design, the large bezels of the Surface Pro 2 looks out of place given that Apple and Samsung are both shrinking the bezels to focus on the display. The iPad Air not only has slim bezels, but comes in at just half the weight of the Surface Pro 2, making Microsoft's tablet feel heavy and obese.
As such, the Surface Pro 2 still feels more Ultrabook than tablet. Perhaps, in the next iteration of the Surface Pro family, Microsoft will focus on slimming down the Surface Pro 2 and reducing its weight like on the Surface 2.
Despite these flaws and shortcomings, in the Surface Pro 2, Microsoft is creating one of the most solidly designed computing experiences with a strong emphasis on high build quality and construction. Magnetic ports and versatile, but optional, keyboard covers and docks make the Surface Pro 2 stand out from the crowd. In the Surface Pro 2, thanks to Haswell's battery life, Microsoft has finally realized its ambitions for the Tablet PC market–a no compromise tablet that provides power, long battery life, inking capabilities, and versatility to take from the desk to the road to the home. It's a one device fits all strategy that Microsoft hopes will replace your home PC, your laptop, and your tablet.
Travis Pope contributed to this review. 

As an Amazon Associate I earn from qualifying purchases.