Microsoft Surface Pro 3 is Aggressive, Defensive, Ultimately Confusing
Is the new Microsoft Surface Pro 3 "the tablet that can replace your laptop" or is it "the laptop that can replace your tablet?" I'm not sure Microsoft has quite figured that out yet. Microsoft announced its new hybrid-tablet-laptop device today with a push that at times was very aggressive and yet equally defensive. Aiming to erase what it calls the conflict that purchasers feel when they are trying to choose between  a tablet and a laptop, the strategy may just work by keeping consumers confused. The new device is focused squarely on that consumer and business intersection with improved specs, a thinner form factor, and a new keyboard and hinge designed to make the device easier to use on your lap or for artwork.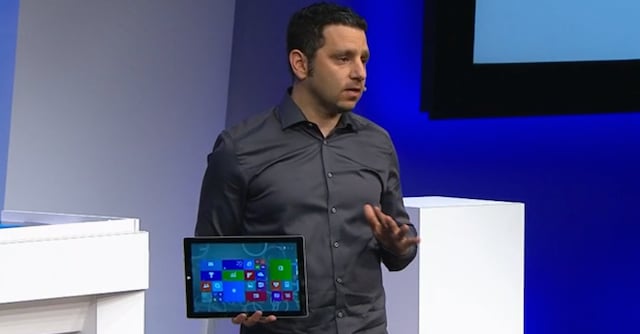 There were hardening rumors that Microsoft was going to announce a Surface mini tablet as well today, but those rumors dissolved quickly once the presentation began and the language that was being used to describe what was to be announced was all about the creating content and enjoying it as well. More on that later.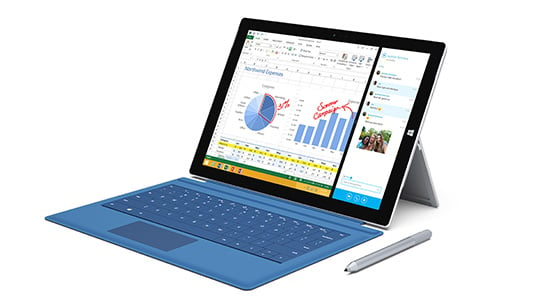 Microsoft is being very aggressive with its talk about what a tablet should be. It should be everything. In presenting the Surface Pro 3, Microsoft exec Panos Panay almost seemed like he had a chip on his shoulder throughout much of the presentation. Challenging the assembled group of reporters and bloggers he noted that many of them probably had iPads in their bags, but he saw the majority working on MacBooks. It was a great way to launch into his talking points with a not so subtle jab at the competition. This jab came after he said that Microsoft spent time thinking about creating devices that consumers use, not for the people in the room, doubling down on the irony.
During the demonstration, Panay placed a Surface Pro 3 on a scale opposite a MacBook Air and the Surface Pro 3 won out handily in that weight class competition. Microsoft is quite clearly saying, you don't need to take both a laptop and a tablet with you, when we've got both in one package, plus the additional cost of a keyboard.
And that's one place that Microsoft's aggressive posture gets a bit tricky: pricing. The new Surface Pro 3, which will be available tomorrow, starts at $799 for a Core i3 model with 64GB of storage and ranging to $1,949 for the top of the line Core i7 model with 512GB of storage and 8GB of memory. To get the most use out of the "tablet" designed to combine the best of a tablet and a laptop, you'll have to spend another $129 for the new Surface Pro Type keyboard. Even purchasing the entry level device with a new keyboard raises the price above the new entry level MacBook Air which is priced at $899. That new MacBook Air comes with 128GB of storage and a Core i5 processor.
Where Microsoft gets its math right is for the double fisted mobile warriors who carry, or think they need to carry, both a tablet and a laptop. Add the price of a 64GB iPad Air ($699 WiFi only) and a MacBook Air ($899) together and the entry level pricing of the Surface Pro 3 makes a little more sense. I'm just not sure if shoppers are thinking that way though, so the marketing campaigns will be interesting to watch.
The new specs and dimensions for the Surface Pro 3 are indeed impressive. They are led by a new larger 12-inch diagonal screen that Microsoft is very keen on telling you that is roughly the same size as carrying around a 8 x 11 legal pad.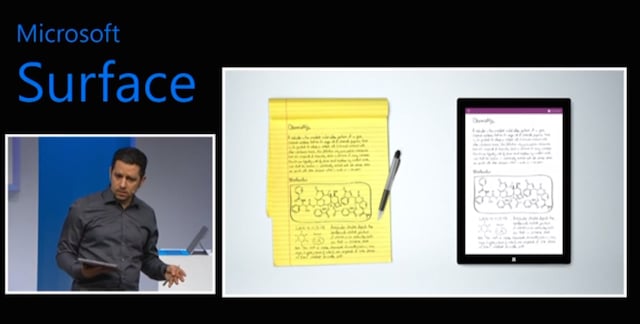 There's a reason for that. Microsoft has also introduced a new pen (not a stylus as it was pointed out) that interacts with the Surface Pro 3 by pushing a button on the eraser end to wake up the Surface Pro 3, and also to use for snapping screenshots. Much of what was demonstrated today tied into Microsoft OneNote and OneDrive for both capture and sharing. OneNote fans should note that Ink notes can sync over in almost real time.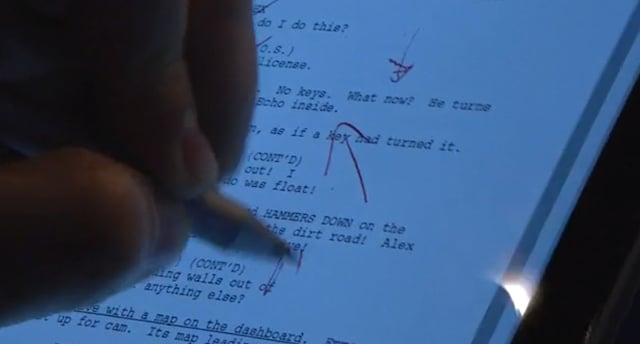 Digital Inking fans will see some very familiar looking inking examples in the presentation. Remember the New York Times crossword? To be blunt, much of what we saw was available previously, but the new sharing capabilities are what makes this news.
Note: The digitizer technology being used is from N-Trig not from Wacom.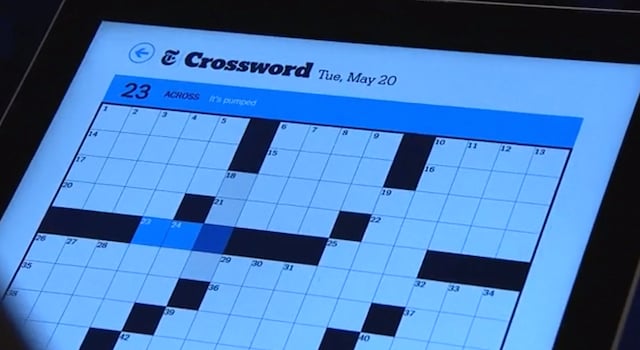 The new device was touted as adding a 10% performance boost over the current Surface Pro 2, with an increase of battery life of 15% to 20%. We'll have to see how that stacks up between the Core i3, Core i5 and Core i7 models. Microsoft has also spent some time thinking about fans and the new design features venting around the device from which Microsoft claims you won't feel or hear air movement. The display is listed as 2160 X 1440 and Microsoft says the Clear Type technology offers the highest contrast ratios in the industry. Bottom line, the screen should look very nice.
The new Type Cover for the Surface Pro 3 boasts a new hinge that as demonstrated makes the device easier to use in your lap. The now familiar two positions are still available, but the hinge mechanism will actually fold back more into what Microsoft calls Canvas mode.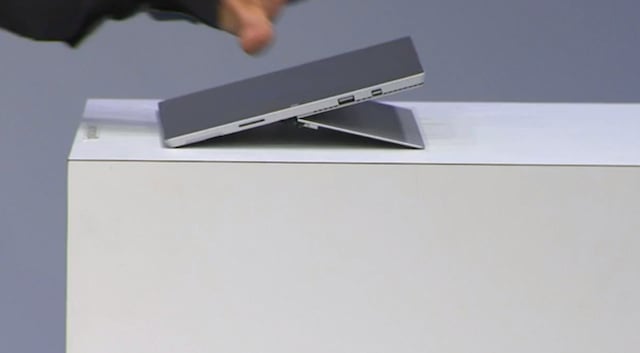 For those using a keyboard the keyboard will magnetically latch on to the tablet surface to create a more stable feel in your lap.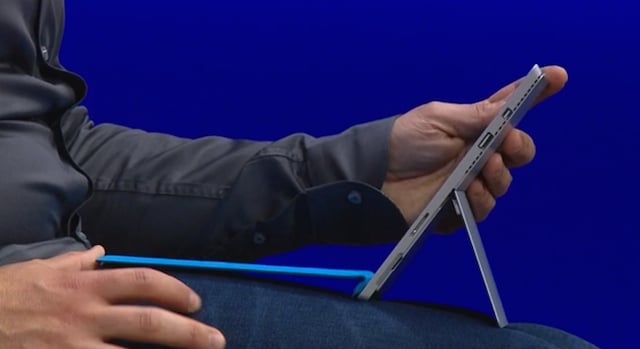 Note, because of the bigger size of the Surface Pro 3, don't expect existing Touch or Type keyboards to work with the new device.
Microsoft's Surface push has been muddled from the beginning, but is slowly winning over some consumers as it continues to improve the device and the device hardware integration. The Surface Pro 3 will probably catch the eye of those do share some confusion about what a tablet means. But, will it catch the eye of those looking at a new PC? Microsoft's aggressive stance in the middle ground between the two device categories makes so much sense on many levels, but the language still feels defensive; unsure when it wants to be bold, and ultimately confusing.
Don't get me wrong. I've become a fan of the Surface concept. And in fact, I've seen quite a few friends and relatives choose a Surface over an iPad of late. But the majority of those decisions have been met with some confusion. The price point of the keyboard is the biggest confusion. Although they consider it necessary to their purchase, they think Microsoft is ripping them off by charging extra for the keyboard when all of the marketing features the device in keyboard mode, contrasted to the iPad which is not. When it is pointed out that a keyboard also costs extra for the iPad, I've heard more than several times that they didn't think one was needed on an iPad.
As mentioned previously there was no announcement of a Surface mini tablet today. From my perspective if such a device had been announced it would have only confused the message that Microsoft was trying to present. It would be tough to present a larger device that Microsoft is positioning as "the tablet that will replace your laptop" alongside a smaller one that is meant to be used primarily as a tablet only. The confusing message of today would have been even more so.
You can watch the Surface Pro 3 announcement here.

As an Amazon Associate I earn from qualifying purchases.