Microsoft Surface Pro 4 Deal Packs Discounts & Dock
Microsoft's retail stores have a Surface Pro 4 deal so good, it might be worth pouncing on immediately. The company has slashed the base cost of its Surface Pro 4 Windows 2-in-1 by $100. On top of that its offering one of the most expensive and essential Surface Pro 4 accessories absolutely free: the Surface Pro Dock.
Microsoft revealed its latest President's Day Surface Pro 4 deal this morning online. The Surface Pro 4 is the company's answer to Apple's MacBook Air and iPad Pro. A kickstand on its rear and an attachable keyboard allow it to morph into a notebook PC. Remove the keyboard and close the kickstand and users have a tablet.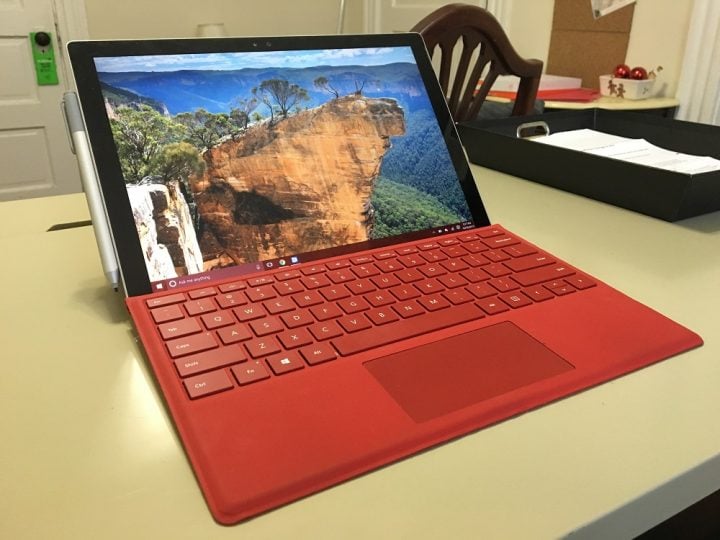 Microsoft tried to get out ahead of President's Day sales by marking down every Surface Pro 4 last week, but it saved the best deal for last. Not only do shoppers get the immediate savings, they also get the Surface Pro 4 Dock that the company announced with the Surface Pro 4.
There doesn't appear to be any gimmicks or requirements beyond just purchasing a Surface Pro 4. Adding any version of the device to a checkout automatically adds the dock at no additional charge. There are no rebates to claim or promotional codes to enter.
The Surface Dock is a port laden black box that supports Gigabit Ethernet, Audio In/Out, Two Mini DisplayPorts and four USB 3.0 ports. It connects to the Surface Pro 4 through the same Surface Connect port that the Windows 2-in-1's standard power charger uses. The idea is to give users only a single cable to manage on their desk instead of three of four. When connected, the Surface Pro 4 activities any accessories connected to the dock on its own.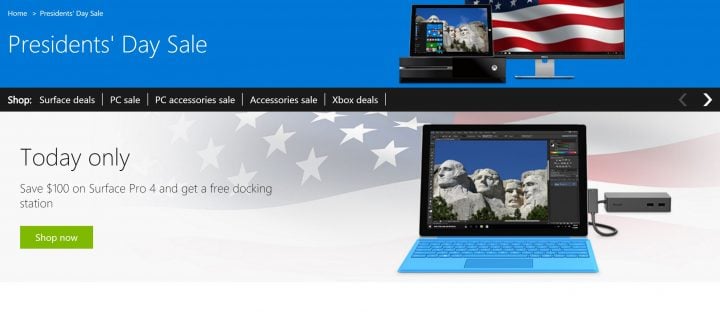 The Surface Dock doesn't just work with the Surface Pro 4. It's also compatible with the Surface Book and Surface Pro 3. Unfortunately, the Surface 3 is missing the Surface Connect port that the Surface Dock requires. Microsoft opted to add a MicroUSB port to that device for charging instead of a Surface Connect Port.
All told, Microsoft's President's Day Surface Pro 4 Deal offers up $399 in savings, which is nothing to turn away at. Normally, the Surface Pro 4 itself only gets as cheap as $899. Today it costs $799 to purchase. That low price is for the Surface Pro 4 with Intel Core M3 processor. Other versions of the Surface Pro 4 have price changes running too. The Surface Pro 4 with Intel Core i5 processor is $899. The Surface Pro 4 with Intel Core i5 Processor and 256GB of storage is $1,199. The Surface Pro 4 with Intel Core i7 processor and 8GB of RAM is $1,499.
Microsoft may continue to its Surface Pro 4 price cut, but the Free Surface Dock deal only lasts through today. Users who buy the Surface Pro 4 should note that the Surface Type Cover – the keyboard accessory – doesn't come with the Surface Pro 4. It costs $129 extra. Microsoft does include the Surface Pen with every Surface Pro 4 purchase.
The Microsoft Store President's Day Sale for Surface ends with the Surface Pro 4. Microsoft doesn't have any deals running on the Surface 3, for example.  That being said, there are some savings to be found on other essentials. Adobe Photoshop 14 and Premiere Elements 14 is $89.99 together, down from $149. The Xbox One + Kinect Bundle is $399, which represents $100 price cut. This bundle is perfect for users who want a Kinect motion sensor with their console. It also includes three games, Zoo Tycoon, Dance Central Spotlight and Kinect Sports Rivals.
The Parrot Bebop Drone is $349 down from $499. Finally there's the Beats Mixr On-Ear headphones. A pair normally costs $249. They're on sale for $169.99.