Microsoft Surface Pro 4 Impressions
Success breeds complacency. It's a phenomenon we're used to by now. Once a company stumbles onto a decent form factor and product category they tend to improve it only marginally. Each evolution gets just a few new features and accessories to make the new version more appealing than last year's. Technology press present at today's Windows 10 Devices event expected a Surface Pro 4 with a few upgrades. Microsoft delivered a Surface Pro 4 that's an improvement in a ton of different ways.
Surface Pro 4 Impressions: Upgrades That Matter
The Surface Pro 3 was a success. That success earned Microsoft a seat at what I call the Great Hardware Makers Table. It also earned Microsoft a lot of imitators. The iPad Pro is coming to shore up the iPad when it comes to productivity. The Pixel C is Google's attempt to expand its entertainment focused tablets into the productivity space. They're both cool to admire, but neither is capable of taking on the Surface Pro 3 or the Surface 3. They both look like a joke compared to the Surface Pro 4.
Microsoft started by improving the internals. Every Surface Pro 4 has a 12.3-inch PixelSense touchscreen display that outshines previous Surface devices. PixelSense is a marketing term for the 1,024 levels of pressure the Surface Pro 4 is able to detect with its upgraded pen. This display has 5 million pixels and fits into the same area that the Surface Pro 3's display did. In fact, the Surface Pro 4 is no bigger than the Surface Pro 3, even with the new display. It is lighter and thinner, according to Microsoft.
The Surface Pro kickstand is back in all its glory, letting users adjust their display to a comfortable angle with access and add-ons. The charging cable is the same and the docking port remains unchanged.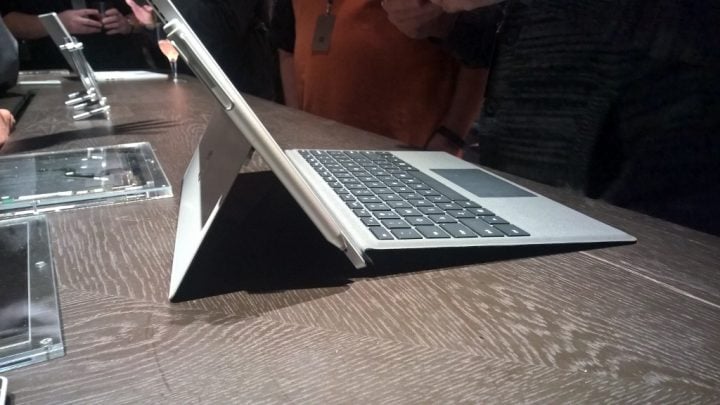 What has changed is what's inside. Microsoft is using 6th  generation Intel Core processors for all of its models. The entry-level model will come with 4GB of RAM and 128GB of storage with an Intel Core M processor powering it all. A configuration page on Microsoft's set lets users choose pre-made models with Intel Core i5 and i7 processors.
That Microsoft decided to not change the footprint or basic idea of the Surface Pro 4 is great. It was already a great device. Quickly, the device felt familiar to me as I held it in my hands at today's Windows 10 Devices Event.
Surface Pro 4 Impressions: Changes That Make Sense
I was most taken aback by the brand new PixelSense display. As I toyed around with some things on-screen I overheard someone say that the upgrade from 12-inch display to 12.3-inch display isn't noticeable. They were wrong. The Surface Pro 4's display looks amazing and feels very spacious. Second, in adding the bigger display Microsoft finally killed off the capacitive button that was used in the Surface Pro 3 and older devices in its line-up.
Using a Surface without that button felt awkward to me at first, but Microsoft was right to make the switch. Windows 10 features an always-visible software button on-screen. It doesn't make sense to keep the physical button around if it's standing in the way of a visibly better display.
The Surface Pro 4's physical power button still sits on the top-left edge. It's joined now by the volume buttons. A Microsoft representative told me this was for better positioning in Tablet Mode when user users are more likely to hold it in portrait mode. I was skeptical, but he was right. In notebook mode you're more likely to use the keyboard or mouse to adjust volume anyway. The move frees up the entire left side of the Surface Pro 4 to do something about an issue not solved in previous generations.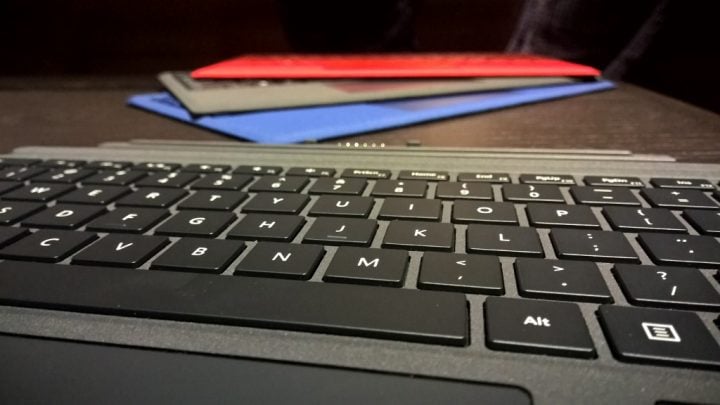 A lot of people use the Surface Pen it seems. During today's briefing the company revealed half of all Surface Pro buyers use the Surface Pen to interact with it. With that many people taking advantage of it, Microsoft hand to find users a better way to store the Surface Pen than an extra loop that costs $4.99. The Surface Pro 4 comes with an upgraded Surface Pen that lets users activate Cortana and erase notes with its rubber top. Even using that eraser wasn't as satisfying as locking the Surface Pen in place on the left side of the Surface Pro 4. It snaps to the body of the device as easily as the Surface covers do.
I'm disappointed to say that the headphone jack is still in the top left, and completely uncomfortable when you're trying to get work done with the new Surface Pro 4 Keyboard.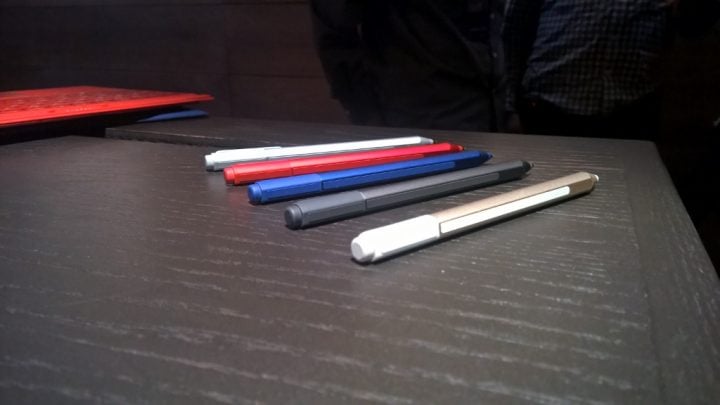 Other features stood out for me with this device. The Pro 4 Keyboard spaces out all of its keys and has a more satisfying key press. The trackpad gets closer to offering the right amount of glide when you're moving around Windows 10 too. The third thing that stood out was Windows Hello. There's a fingerprint reader sitting on the right of the trackpad so that users can skip password logins. Surface Pro 4 users have the option to sign in with the built-in Iris Scanner too.
Surface Pro 4 Impressions: Should You Pre-Order
The Microsoft Store opened up Surface Pro 4 pre-orders this morning. Only the headphone jack remains a fundamental design issue for me. Being thinner and lighter – the Surface Pro 4 weighs just 1.7 pounds – makes it a much more comfortable "do-everything" device than the Surface Pro 3.
The biggest problem for this device is pricing. $899 before a Type Cover makes this a really, really expensive purchase. That could and should give some potential buyers pause. I'm excited to get more hands-on time with the device for sure.