Microsoft Surface Pro Arrives February 9: Prices Start at $899
The Microsoft Surface Pro will miss its planned January release, but will arrive in stores on February 9 with the base model starting at $899.
Unlike the Surface RT the Microsoft Surface Pro will go on sale in major retail stores in addition to Microsoft stores at release. So on February 9 users can likely buy the tablet from Best Buy just as easily as they'd buy it from a Microsoft store or kiosk.
Read: Microsoft Surface RT vs Surface Pro: Which Is Right For You?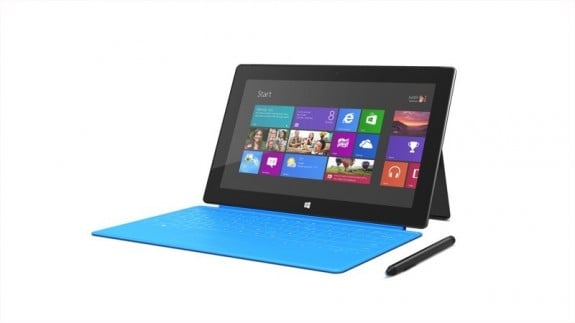 The Surface Pro starts at $899 for the 64GB model. The 128GB model of the tablet will cost $999. Both models come with a pressure-sensitive pen for taking notes and interacting with the tablet without getting fingerprints on the glass. Neither model will include a keyboard, however.
Users can buy their own Bluetooth keyboard for the Surface Pro or choose one of Microsoft's cover keyboards. Users that want a thin cover and don't need physical keys can buy the Touch Cover for $120 in any color they want. The Type Cover is a bit thicker, but comes with physical keys and it sells for $130.
Microsoft also has special limited edition designs for the red, magenta and cyan Type Covers, which will sell for $129.99
The new Microsoft Surface Pro is Microsoft's first device that runs the full version of Windows 8. It uses an Intel Core i5 processor so it can run Windows 8 apps as well as legacy desktop apps. It has the power of an Ultrabook in the form factor of a somewhat thick tablet.
The Surface Pro does have some disadvantages when competing with a laptop, however, due to its form factor. The Surface Pro can't rest on a user's lap as easily as a traditional notebook due to its kickstand and keyboard cover design. The Surface Pro can work as a tablet on the go, but it requires a table or some other flat surface in order to use a physical keyboard.

As an Amazon Associate I earn from qualifying purchases.