Microsoft Surface RT vs Surface Pro: Which Is Right For You?
The Microsoft Surface RT is finally on sale starting at $499, but Microsoft has another version of the tablet on the way in a few months that power users might want to wait for.
The Surface tablet that comes out on October 26 is the Windows RT version of Surface. It uses an ARM processor like the ones found in smartphones and most tablets, and the base model only includes 32GB of storage. It has an 10.6-inch display with a 1366×768 resolution, weighs 1.5 pounds, and has a 31.5Wh battery that will last 8 hours of "mixed activities."
In a few months, Microsoft will release the Surface Pro which runs full WIndows 8 Pro with an Intel Core i5 CPU. The Surface Pro is about 4mm thicker than the Surface RT, and weighs 2 pounds. It has the same sized 10.6-inch screen, but its has a 1920×1080 (1080p) display, starts at 64GB of storage, and a 42Wh battery. The Surface Pro also features pen input.
Aside from the specs and slight dimension differences there are other big differences between the two Surface tablets in terms of what software they can run. The Surface RT tablet that is available for pre-order now has several limitations including the inability to run legacy apps that some business users rely on.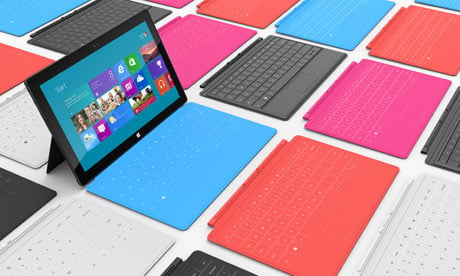 Surface RT
Windows RT is Microsoft's tablet version of Windows, and can only run apps from the Windows Store. That means devices like the Surface RT can't run the Chrome web browser or download games from Steam. The only apps Windows RT can run outside of the Metro Modern UI are the ones included in Microsoft Office which is pre-installed.
https://www.youtube.com/watch?v=8mSckyoAMHg
The Surface RT and other Windows RT tablets also lack Windows Media Player, which likely isn't a big loss for most users.
Windows RT and the Surface RT is best suited for users who only want a tablet with tablet apps and don't need desktop apps like iTunes, Photoshop, and QuickBooks.
Surface Pro
The Surface Pro will be able to run any app that a Windows 8 Ultrabook can run. The Surface Pro has very similar specs to most convertible Ultrabooks, just in a different form factor.
Windows 8 Pro is the best of both worlds: it can run apps designed for the Windows desktop as well as Modern UI apps in the Windows Store. It's the best option for users who really want to use a Surface as a laptop replacement.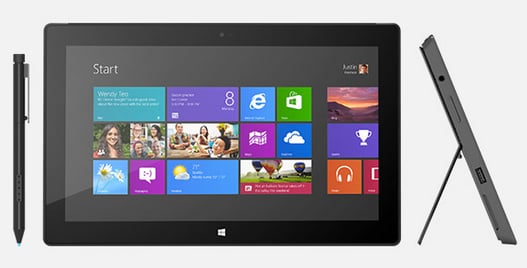 The pen input of the Surface Pro gives users an easier way to take notes and sketch in apps. Sometimes a pen is easier for handwriting or photo editing, and the included stylus will likely work better than any capacitive stylus that will work with the Surface RT.
Microsoft hasn't announced a release date or price for the Surface Pro yet. It did say during the announcement event, however, that it will release the Surface Pro about 90 days after the Surface RT, and that it will be "priced competitively." The would result in a release date of January 24, 2013 and price of somewhere around $1000.
Which One Is Right For You?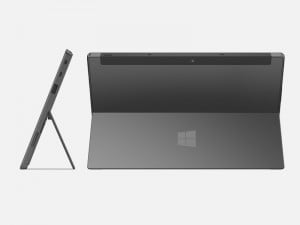 Users who already have a desktop PC or laptop who still want a Surface should have no problems with the Surface RT. It won't run every app, but that's what the main computer is for.
The Surface RT is a good option for users that plan to rely on a notebook or desktop for using the traditional Windows interface, and for using apps that don't run on Windows RT. This tablet is a better option as a second computing device, much like users who may own an iPad and a notebook. Users can use the Surface RT for browsing the web, video chatting on Skype, emailing working in Office and playing casual games, but shouldn't plan to run every app a notebook or desktop can.
The new Live Tiles user interface is more straightforward than traditional desktop operating systems, which could help first time users adjust to using a tablet.
The Surface Pro is better suited for users who want to replace their laptop with a tablet but don't want to sacrifice features. The Surface Pro has all the functionality of an Ultrabook in a very portable form factor.
Students and business users may appreciate the pen input that should simplify note taking. The Surface Pro isn't designed to play graphically intense games, but should handle some recent games. Business users can count on using legacy application in the traditional Windows desktop environment.
Business users will also prefer the Surface Pro because it has features they need like Remote Desktop and Active Directory, and because it can run any app they need and is quite portable.

As an Amazon Associate I earn from qualifying purchases.