Microsoft Surface RT Torn Down, Deemed Difficult To Repair
As with any major new device, now that Microsoft's Surface RT is available iFixit has a new teardown to show the inside of the device and see how easy it is to repair.
To disassemble the Microsoft Surface RT iFixit had to remove a total of 17 Torx screws from under the kickstand and the camera bezel. The inside of the Microsoft Surface RT looks just as nice as the outside of the device. It's dominated by a large Samsung-made battery, and a tightly-packed motherboard.
After removing the 17 screws the battery inside is relatively easy to replace. Microsoft glued battery to the inside, so users need to work it with a spudger to take the battery off. The battery itself is a 7.4 V, 31.5 Wh battery which makes it larger than the 25 Wh battery inside the iPad 2, and smaller than the 42.5 Wh battery in the iPad third generation.
The teardown also reveals two stereo speakers inside the Surface, as well as a mystery third speaker. The smaller third speaker is likely what produces the clicking sound of the Type Cover when it's connected to the Microsoft Surface RT.
The only other surprise in the Surface RT is the display panel is a Samsung panel that's very similar to a display with a 1280×800 resolution. Microsoft says its display has a 1366×768 resolution, which is the minimum required to use the Snap feature in Windows 8 and Windows RT to run two apps side-by-side. There's no reason to believe Microsoft would lie about the resolution of the Surface RT, but it is an interesting point.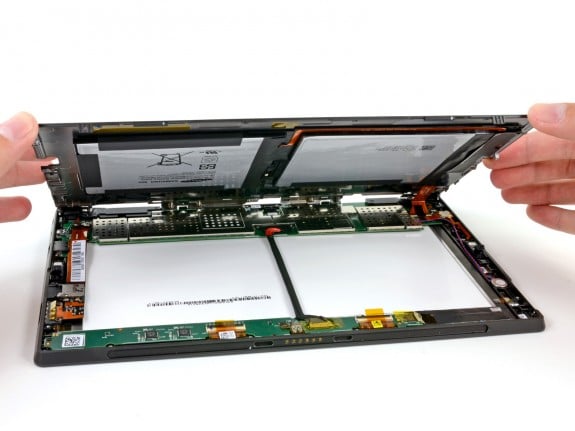 Overall, iFixit gave the Microsoft Surface RT a 4 out of 10 repairability rating. The battery and some components are relatively easy to replace, but it's difficult to actually get inside the device. It's also very difficult to replace the LCD display in the device without a lot of patience and a heat gun, though it's hard to see why users would want to replace the display themselves.