Microsoft Takes a Step Back to PC Era With Windows 8.1 Update
Though Microsoft introduced the new Metro-inspired Start Screen on Windows 8 to better compete in the post-PC revolution against Android tablets and iPads, the company may be reversing course when it releases Update 1 to Windows 8.1. According to a report from The Verge, which cites unnamed sources "familiar with the matter," Microsoft will now boot natively into the classic desktop mode, rather than the Start screen, marking a return to addressing the concerns of PC era users.
With Windows 8.1 Microsoft allowed users the option to bypass the Start screen, but Update 1 will enable this feature by default without intervention from the user.
The move was likely made due to user feedback and also to accommodate business users who are starting to migrate away from the aging Windows XP operating system ahead of when Microsoft officially cuts off support in a few months come April.
The update is right now still in development, and along with the new booting to desktop by default, Microsoft will also make some important buttons more visible to accommodate traditional PC users who rely on a keyboard and mouse, rather than a touchscreen, to make the Windows experience easier.
These options include making the sleep, shut down, and restart button more visible. On older Windows OSes, these buttons were part of the Start menu, but given that Microsoft did away with the Start menu starting with Windows 8, users now have to swipe and use gestures to call up these PC controls. Now, they will be visible on the Start screen so gestures aren't required.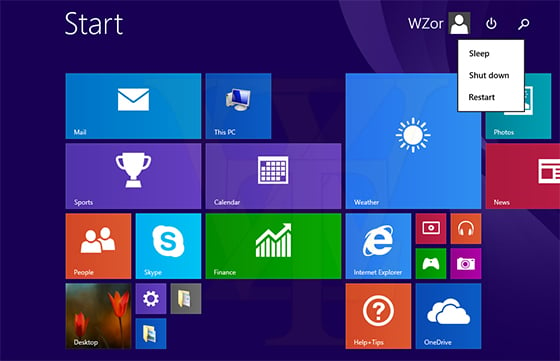 Other rumored features include the cohabitation of traditional PC programs alongside new apps designed for Windows 8's Metro UI. Now, users will be able to pin their Metro apps inside the task bar in the classic desktop mode to allow users to juggle between traditional PC apps and the new Metro apps.
Unlike Apple, which operates iOS for mobile tablets and smartphones, and a regular OS X for classic touch-less computing experiences on the Mac, Microsoft is combining touch and traditional PCs into one Windows 8 operating system. This creates challenges that Microsoft still needs to address on whether to highlight touch, which the company attempted to do with Windows 8, or to appease legacy users who may not have touch-enabled displays and still rely on the mouse and keyboard.
These changes will likely be the precursor to larger changes that Microsoft will be introducing at BUILD for what is believed to be the next major version of Windows, known as Windows 9.

As an Amazon Associate I earn from qualifying purchases.