Microsoft Takes The Wraps Off Zune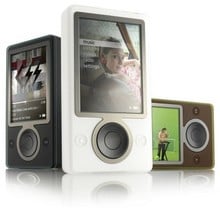 As expected, Microsoft took the wraps off of Zune today, unveiling what will be available this Christmas season, (watch for the usual demand is so high you can't find one frenzy.) The first generation Zune, intriguingly based on Toshiba's Gigabeat music device, will debut in three colors: the usual white and black, but also brown, which is a unique twist. It'll be a 30 gigger, and is targeted at those who like to share music, videos, and pictures, via a WiFi connection. Of course there is a Zune music service, called the Zune Marketplace, to go along with it that allows single song purchase, or a "buy a bunch" pass model. Intriguingly, songs that you share can only be played three times over three days before you have to make a purchase or have it become disabled. The Zune screen is 3 inches with a QVGA resolution and there is a built-in FM tuner.
No official word in the press release, but several sources are reporting what I think could be the key development, if it comes to be. That Zune will import your existing iTunes collection. Now, again, no official word on this as of the moment, but if Microsoft and Apple have come to some sort of deal here to allow this to occur, I think this could be a huge win-win for consumers. For the life of me, I can't imagine Apple wanting to do that, but you never no. But, caveat, caveat, caveat, it could only mean it will import songs from a collection that weren't purchased via iTunes. (All those CDs you ripped.) Still too early to tell on this bit of news.
Also announced were three accessory packs for auto, home, and travel, but intriguingly no price nor official release date.
Here's a link to the press release and here's a link to Engadget's coverage and Gizmodo has a raft of pictures. Expect lots of Zune coverage all over as the day goes on.
While I'm sure this device will heat up the mobile entertainment wars quite a bit, word is that Microsoft is already busy on the next generation which will probably be of their own devising. Guess we'll all be staying tuned.

As an Amazon Associate I earn from qualifying purchases.