Microsoft to Debut Mobile Surface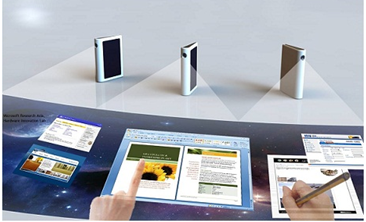 Mary Jo Foley is reporting that Microsoft is getting ready to show off a sort of mobile version of Microsoft Surface, that Microsoft is calling Mobile Surface. This is being shown at an employee-0nly Microsoft Research showcase, but some reporters have seen it in action.
The idea is to hook up a mobile phone with a camera and projector. The screen is projected onto a table top and a user can then use hand gestures to control it. Supposedly it not only recognizes gestures in a lateral manner, but also can detect the distance between your hand and the surface.
Todd Bishop managed to record a video of this in action and you can view that below.
For Microsoft Courier fans, Mary Jo also says Microsoft is still working on a variety of touch projects including Courier, but that we aren't likely to see anything beyond the incubation phase until 2011.
Some more info on this at Gizmodo.


As an Amazon Associate I earn from qualifying purchases.