Microsoft to Give Voice to Bing in April to Take on Siri
Starting in April in time for Microsoft's developer BUILD conference, the Bing search engine will be getting its own voice and intelligence. At least that's what MSFTNerd is claiming on a Tumblr account, noting that the voice search feature will be available on Windows Phone, Windows, iPhone, and Xbox over time. Intelligent voice search hosted by Bing, which was previously leaked as Cortana, would allow Microsoft to take on Apple's Siri digital assistant and Google Now's voice search.
To use the voice activated Bing search, users will have to say the "Bing, tell me" command followed by whatever their request or query may be. This is similar to Google's "OK, Google" or "OK, Glass" commands.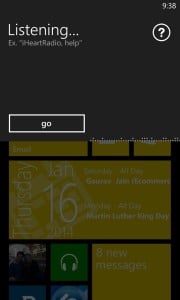 "Cortana will be voiced by Jen Taylor & will launch first in beta on Lumia this April for US developers," MSFTNerd reported.
At this point, though, it's unclear if Bing's voice command will be an always-on voice command on devices running Windows Phone similar to what Google had implemented on the Nexus 5 with Android 4.4 KitKat or if it requires users to press and hold a key, like what Apple is requiring of iPhone users with Siri. Given that the flagship Lumia 1520 smartphone did come with a Snapdragon 800 processor from Qualcomm, a chipset that supports battery conserving always-on voice to always listen to your voice even when the screen is turned off, Microsoft could theoretically go the Google route, making Windows Phone's voice assistant much more convenient to access.
Another key question would be whether Cortana, or Bing voice search, would be able to anticipate your needs, a feature that sets Google Now apart as that assistant is able to tap into your Google services to learn about you. Google Now will display boarding passes, shipment and package tracking notifications, and calendar alerts, for example, from Google Calendar and Gmail services. Potentially, if Microsoft linked Bing with Outlook and other properties, Cortana could match Google's features over time. Apple's Siri, on the other hand, handles just queries and simple tasks but doesn't deliver "anticipatory" results in the same way that Google can with Now.
This would be a big move for Windows Phone and Microsoft given that the platform had often struggled to keep up with its rivals in terms of features. The Lumia 1520 fixed most of these, with quad-core CPU and 1080p display support, and now we can see the platform become more consumer-friendly.
BUILD is also the venue where Microsoft is expected to show off features for what could debut as Windows 9.