Microsoft to Release OneNote App for the iPhone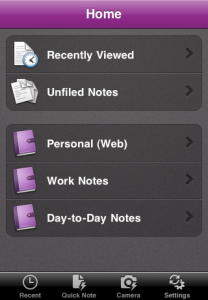 This should make some folks happy. I know it makes me so. Microsoft is going to be releasing a OneNote App for the iPhone. According to Ina Fried at All Things Digital, we should see it today.
The App will be free for a limited time. Users should be able to sync their Notes back and forth using Microsoft's Windows Live Skydrive.
This will obviously be competition for MobileNoter, which is an app that allows you to sync notes back and forth through its own solution. To some degree Evernote will face some competition there as well.
Big questions remain in my mind in the wake of the news. How will Ink Notes look on the iPhone? Will there be a separate iPad version in the works?
More when we have it.
UPDATE: And what do you know. It's available now. My afternoon is about to get crazy with work, so if anyone gives this a try post your thoughts and observations in the comments.