Microsoft to Showcase Windows 8 on a Samsung Tablet at BUILD Conference?
Various Internet sites are reporting that Microsoft may be gearing up to give further insight into its tablet strategy with its forthcoming Windows 8 operating system at the BUILD conference for developers in Anaheim, California on Tuesday. The Redmond, Washington Windows-maker is said to be readying developer builds of the Windows 8 operating system in time for the conference, leading some to speculate that Microsoft would also be giving away prototype tablets to developers as well at that venue.
As Windows 8 is a touch-centric OS designed to be both a PC and to be competitive against the rise of consumer tablets running mobile operating systems such as Android and Apple's iOS, the OS wouldn't be much value to developers who need to test out their apps, programs, and development efforts in a touch-based environment. As such, it is speculated that Microsoft would be working with Samsung to deliver prototype hardware, alongside beta copies of Windows 8 for tablets, to developers so that they can begin their work in making apps for the next-generation OS and tablet.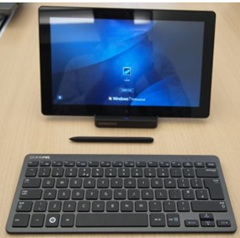 Korea Economic Daily's un-named industry sources says, "This new product manufactured by Samsung will be the company's first collaboration with Microsoft in its hardware devices."
Windows 8 was introduced earlier this year. It will be the first time that Windows will support ARM chipset, and various elements of Windows Phone 7 was borrowed for the tablet's user experience, though Microsoft maintains that Windows Phone is strictly reserved for phones and that tablets are computers that require Windows. However, recently, partner NVIDIA has boldly speculated that Windows 8 tablets may run Windows Phone 7 apps. Despite the early preview, a lot of questions remain unanswered about Microsoft's next-generation OS, and we expect to hear more about the OS next week at BUILD.
Recently, at the IFA trade show in Berlin, Germany, Samsung had debuted a Series 7 tablet running on Windows 7. It is said that the rumored Microsoft-Samsung hardware would be similar to the Series 7 tablet.
The Series 7 tablet at IFA featured an 11.6-inch capacitive touchscreen display along with an active digitizer running on Windows 7.
Via: Microsoft-news

This article may contain affiliate links. Click here for more details.