Microsoft to Support Surface RT Tablet Hardware for 4.5 Years!
In an update to its support site, Microsoft has detailed its support policy for the new Surface tablet that runs the company's consumer-oriented Windows RT operating system. According to Microsoft, the Surface RT will receive 'mainstream' support until the end date of April 11, 2017, or roughly 4.5 years since the device debuted. The company states that current policies dictate a minimum of four years Mainstream Support for Consumer Hardware products.'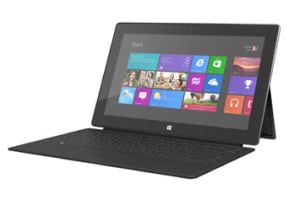 The company outlines that the support includes hardware repairs, replacement parts, as well as software updates.
The move should help consumers and developers commit to Microsoft's new branded hardware ecosystem as the support period is much longer than Apple's support of the first-generation iPad. After about 2.5 years, the original iPad stopped receiving software updates from Apple. With Microsoft's commitment, owners of the Surface RT can expect software updates until at least April 2017.
"Hardware repairs or replacements and parts are available throughout the support lifecycle. Services are free for products under warranty and available for a fee for products out of warranty. … Updates are available for the software/firmware and OS that is embedded into the hardware (except for Surface devices, which is covered by the support lifecycle policy for the Operating System on the device)."
Though repairs and replacement parts will be made available through April 2017, users are still bound by terms of the device's warranty. Non-warranty repairs will incur additional charges.
Another new-comer to the tablet space is Google, which still has not outlined its support policies for its Android-powered Nexus 7 and Nexus 10 tablets. Given that many Android device manufacturers usually abandon their hardware after a year or two, the support lifespan for Android products may be shorter than Microsoft's.
In addition to the Surface RT, Microsoft also intends on releasing a Surface Pro model which will be similar to the RT edition but will come with a more powerful Intel Core processor, Windows 8 Pro, and the ability to run legacy programs.
Typically, according to ZDNet, Microsoft offers five years of support for consumer software and an additional five years of extended support for business applications.

As an Amazon Associate I earn from qualifying purchases.