Microsoft: Update Windows 8.1 Prior To Tuesday May 13 Or Else (Updated)
UPDATE: Microsoft has relented and pushed by the May 13 deadline to June 10. See more information here.
Here's a Public Service Announcement for Windows 8.1 users. If you haven't yet updated your machines to Update 1, which Microsoft delivered last month, you better get cracking.  If you don't, according to Microsoft, you won't receive future Windows 8.1 updates until you do. When Microsoft released news of the Windows 8.1 Update it stated clearly that in order to receive future updates, including security patches, users needed to update Windows 8.1 systems with the April update. That Windows 8.1 update is sometimes called Update 1, the Spring Update or just the Update. What's the rush? Microsoft's May patch Tuesday is coming this week, May 13, and if you haven't updated you won't receive the updates which include security fixes.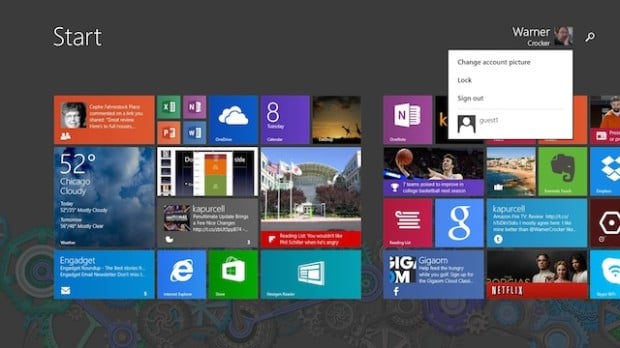 The Windows 8.1 Update was released on April 8 and with it came new features to make the touch centric Windows 8 UI more amenable to desktop users who prefer a keyboard and mouse. Microsoft acknowledged that it was listening to users who were hesitant to transition to Windows 8 or 8.1 because of the glaringly different UI changes that came with the new operating system. The jury is still out as to how many minds the update may or may not have changed about Windows 8.1
Read: How to Get the Windows 8.1 Update
For some the update for Windows 8.1 went smoothly, but others had difficulty, including many business customers who used the Windows Server Update Service (WSUS). Breakdowns in that procedure led Microsoft to announce that those customers would have until August 2014 before they would stop receiving future updates. But for most consumers the update cutoff date is still on for this Tuesday.
Windows 8.1 users who haven't updated by May 13 will see a notice to execute the April update. Once that is completed another trip back to Windows Update will be required to get the latest and any future updates. Here is Microsoft's original statement on the issue:
Since Microsoft wants to ensure that customers benefit from the best support and servicing experience and to coordinate and simplify servicing across both Windows Server 2012 R2, Windows 8.1 RT and Windows 8.1, this update will be considered a new servicing/support baseline. What this means is those users who have elected to install updates manually will have 30 days to install Windows 8.1 Update on Windows 8.1 devices; after this 30-day window — and beginning with the May Patch Tuesday, Windows 8.1 users' devices without the update installed will no longer receive security updates.

This means that Windows 8.1 users — starting with Patch Tuesday in May 2014 and beyond — will require this update to be installed. If the Windows 8.1 Update is not installed, those newer updates will be considered "not applicable.
And here is a follow up statement issued after the WSUS issue was resolved:
For our consumer customers, the Windows 8.1 Update is a required update to keep Windows 8.1 devices current. It will need to be installed to receive new updates from Windows Update starting on May 13th. The vast majority of these customers already have Automatic Update turned on, so they don't need to be concerned since the update will simply install in the background prior to May 13th. For customers managing updates on their devices manually who haven't installed the Windows 8.1 Update prior to May 13th, moving forward they will only see the option to install the Windows 8.1 Update in Windows Update. No new updates will be visible to them until they install the Windows 8.1 Update.
To make matters perhaps even more confusing, users who are still on Windows 8, as opposed to Windows 8.1, have until January 2015 before they are required to update their machines.
Given how upgrades to operating systems have a history of causing problems in some instances, many users like to wait and see how updates roll out among other users before deciding to upgrade. While some users will rush to upgrade, for some taking their time is a habit that's hard to break. Especially if they've been bitten in the past. Microsoft is no stranger to that circumstance.
But given that business users were cut out of the loop by Microsoft when it pulled the plug on that WSUS update process, the impending deadline for consumers seems to be an onerous mandate, and perhaps hastily contrived given that Microsoft has been unclear as to why the timing of the one month turnaround is so important.
Microsoft released its Security Bulletin Advance Notification for May 2014 that lists 8 security patches. Four of those apply to Windows 8.1, with two listed as critical and two listed as important.
Some are hoping that Microsoft will lift the deadline given that there are users who are still experiencing problems with the Spring Update to Windows 8.1. At last count there were 93 pages of complaints and issues in the Microsoft Answers Forum. 
That hope follows after Microsoft recently backtracked on its decision to not issue updates for Windows XP users after ending support for that 12-year old operating system in April. In light of a serious security vulnerability in Internet Explorer so quickly after the end of support for Windows XP, Microsoft changed course and issued a patch for those XP systems. That move was controversial and led many to question whether Microsoft would stick to its guns about these kind of announcements in the future. One of the critical patches for the May update also addresses an Internet Explorer vulnerability.
It looks like we are about to find out on Tuesday if Microsoft means what it says regarding the update to Windows 8.1.

As an Amazon Associate I earn from qualifying purchases.