Microsoft Updates SkyDrive Apps, Cuts Free Storage Space
Microsoft is challenging Dropbox by updating SkyDrive with new mobile and desktop apps while also decreasing storage space for free users.
Microsoft announced today that SkyDrive Free now gives users 7GB of cloud storage space instead of the previous 25GB. Some users can keep the 25GB per month, however.
Any user who already has a SkyDrive account can go to this website and opt to keep their 25GB of storage space, though it's not clear how long the extra space will last. Users that already had 4GB of data in the cloud service as of April 1 are already upgraded to 25GB.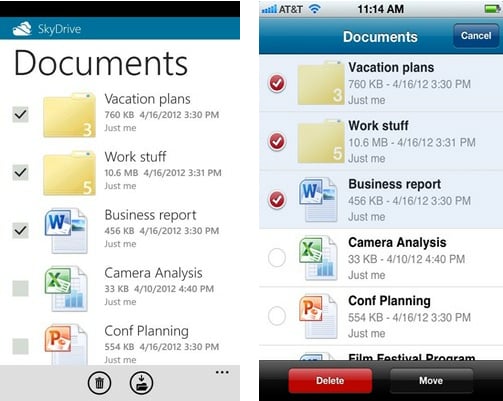 New users who want more than 7GB of cloud storage can pay $10, $25, or $100 per year for an addition 20GB, 50GB, or 100GB, respectively. That's a better deal than Dropbox which offers 50GB for $9.99 a month, but Dropbox integrates into more apps and services than SkyDrive.
To go along with the changes in storage space, Microsoft update the SkyDrive mobile apps. Windows Phone and iOS users can now use the app to add, delete and rename files on SkyDrive. The iOS app was also updated to add iPad support.
To further compete with Dropbox, SkyDrive finally has desktop apps as well. With the new apps users can access their SkyDrive files through Windows Explorer or Finder on the Mac. Any files added to the SkyDrive folder will automatically sync to the cloud service, and any new files added to the cloud from mobile apps or the website get pushed to users' desktops.
The Windows version of the app will even allow users to remotely access any files on their PC through SkyDrive.com. It's great for important files users forget to sync to SkyDrive, and Microsoft even claims users can stream video from their PC using the feature.
Microsoft's SkyDrive announcement comes just before the expected launch of Google Drive, and offers more storage space than what we've heard Google will offer. How the two services will compare is unknown right now. With Microsoft and Google butting heads in the cloud storage space, Dropbox, Box.net, and others face some big challengers that can afford to undercut them.

As an Amazon Associate I earn from qualifying purchases.