Microsoft Updates SkyDrive For iOS, Introduces Automatic Photo Back Up
Users of Microsoft's SkyDrive cloud storage solution no longer have to purchase a Windows Phone device to get automated picture back up. An update to the SkyDrive for iOS app will bring the feature to the iPhone as well.
Microsoft announced the application update in a blog post earlier today, and shared information about the application's redesign for iOS 7, the software update to the iOS operating system that Apple released back in September.
Following the update, which is now rolling out, users will be able to turn the feature on inside the application's settings. From then on, any picture taken with that iPhone or iPad will automatically be synced to that user's SkyDrive camera roll. There won't be any extra button presses involved. In fact, the entire process sounds as streamlined as it is on Windows Phone.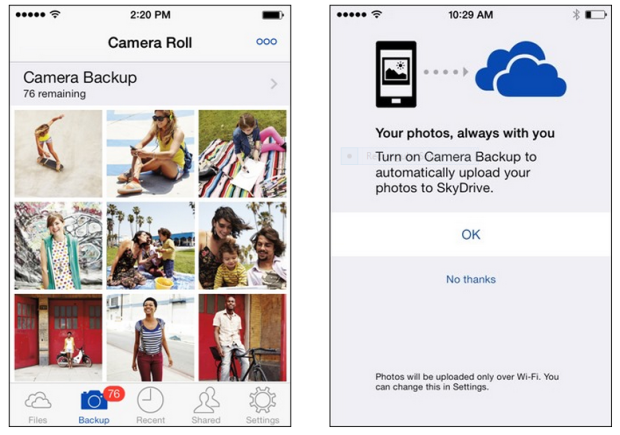 Speaking of Windows Phone, today's SkyDrive post specifically points out that automated SkyDrive syncing is one of the features users love most about Windows Phone. It's curious that Microsoft would choose to release a SkyDrive app with iOS syncing when Windows Phone seems to be at a standstill software wise.
This feature coming to iOS couldn't come at a worse time. Though Nokia's Windows Phones continue to gain in sales, the Windows Phone 8 operating system hasn't seen a significant software update from Microsoft in about a year.  To be fair, it has supplemented Windows Phone 8 with a few small updates designed to add support for larger screens and faster processors. The company isn't expected to ship a large update to Windows Phone 8 until sometime next year.
On the other hand, a seamless SkyDrive experience couldn't come at a better time for Microsoft as a whole. The company has released dozens of applications for iOS users, allowing iPhone users the opportunity to try almost all of its products on their platform of choice.
This update to SkyDrive for iOS also allows users to open their OneNote notebooks and Office documents in their respective iOS app instead of a mobile version of SkyDrive by default. Microsoft has also taken this opportunity to announce enhanced support for Facebook photo sharing on SkyDrive too.

As an Amazon Associate I earn from qualifying purchases.