Microsoft Website Hints at Office Mobile for iPhone
Microsoft's support website include tags referencing Mobile Office for iPhone, Excel for iPad, and PowerPoint for iPad according to a MacRumors report.
The references don't appear in Microsoft's U.S. site, but they do appear on international versions of the pages. None of the support pages make direct mention of the mobile apps, but the tags say the support articles apply to the apps.
The two support articles linked in the report include one about custom numeric formats in Excel. The only tag on the page is for Excel for iPad. The other article is about sharing SharePoint libraries with SkyDrive. The second article includes tags for Mobile Office for iPhone, Excel for iPad, and PowerPoint for iPad.
Microsoft currently offers mobile versions of its Office suite on Windows Phone, and includes the suite with every Windows RT tablet. There are no versions for iPhone, iPad, or Android, though recent rumors said they will come soon.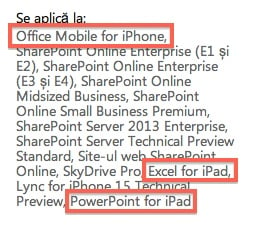 Recently leaked screenshots of Office Mobile for iPhone show an app that looks very much like the app in Windows Phone 8. Like other Microsoft apps, the leaked Office Mobile for iPhone uses Microsoft's Metro Modern UI design language. The app appears to support all files types and syncs them via SkyDrive.
Microsoft will likely limit the mobile apps when they do come to iPhone and iPad. The company will likely require Office 365 for certain aspects of the apps like the ability to edit or create new documents. Non-subscribers can use the app to view documents, but to use the app to its fullest users will likely have to pay the $6 per month subscription fee.
Those recent rumors said Office Mobile for iPhone as well as Word, Excel, and PowerPoint for iPad will arrive in the App Store in late February or early March 2013. And Android release will follow in May 2013.

As an Amazon Associate I earn from qualifying purchases.