Microsoft's 2011 CES Keynote Says Please Wait and See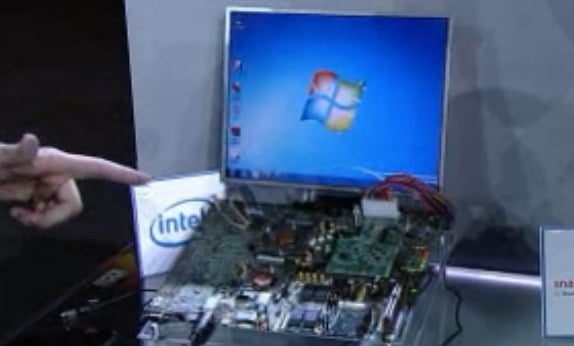 Steve Ballmer took the stage in his Microsoft blue shirt last night and delivered a keynote address that can best be described as "don't count us out, please wait and see what we have to say next year." That may be a bit unfair, but when the first half of the keynote talks about things you can currently do with Windows 7, and then the second half goes on to promise what the next version of Windows can do, which can be served up on a chip, you're talking about a company that isn't rolling with the fast moving punches in today's tech biz the way many think it should.
It may be tough keeping up in today's fast paced tech biz, but Microsoft is in it for the long haul, there's no question.  After several debacles and lots of internal changes we should expect some ramp up time before things start yielding any new fruit. And when some of that new fruit comes to market Microsoft can't seem to catch a break. Windows Phone 7 and Xbox Kinect look to be real innovations, but when Microsoft touts sales figures they get the fact that these are sales figures to retail channels and not to customers tossed in their face. Fair? That's debatable. But then again, Microsoft should be smart enough not to try and hide what the numbers mean.
Microsoft, for better or worse is hell bent on Windows everywhere and on everything, because first and foremost it is a software company and that's where the dough comes from. Even in its current state of being behind the 8 ball, the dough is still coming in, so you can never really count Microsoft out. But to be honest, even with the promise of Windows on a chip someday down the road, the concept still feels cumbersome and heavy. Note that no where in the keynote did you hear Windows 8. Your heard a lot about "next version of Windows" though. That's probably telling on many levels. Note also that you saw no really cool magic (or revolutionary :)) devices held up by Mr. Ballmer. Instead, what sex there was on stage focused on some devices from some of Microsoft's new partners (Qualcomm, Texas Instruments, NVidia) in the ARM's race, that had their guts laid bare. I have to presume the semiotics were at least somewhat intentional. Those shots basically served as an image to show the state of Microsoft at the moment. Exposed, working hard, but not quite put back together yet.
You can watch the keynote address here.

As an Amazon Associate I earn from qualifying purchases.