Microsoft's Menlo project revealed as a navigation device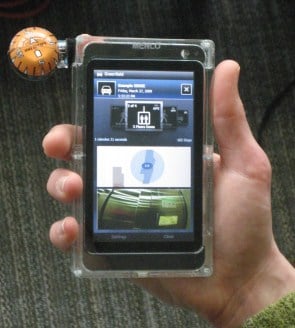 As you may recall, Mary-Jo Foley of ZDNet has been digging into a Microsoft project called "Menlo", which she previously speculated was intended to make the desktop version of Windows run on mobile devices. Her new finding is that it is mobile-oriented but not so exciting.
Running with a tip, she found a paper published by Microsoft Research, entitled "User Experiences with Activity-Based Navigation on Mobile Devices," to be presented at MobileHCI 2010, that describes Menlo as:
Menlo is a prototype mobile device with a capacitive touch screen (4.1″ diagonal, 800×480) running Microsoft Windows Embedded CE 6.0 R2 which incorporates a Bosch BMA150 3-axis accelerometer and Bosch BMP085 digital pressure sensor (barometer). The application provides users with a series of activities in a trail, which we call breadcrumbs. Each breadcrumb consists of: walking for a specified number of steps (optionally specifying a compass direction), going up/down stairs for a specified number of floors, or taking an elevator for a specified number of floors.
Activity-based navigation basically counts your steps and tracks your turns between point A and point B, so that you can follow them backwards to your original location, like when you're trying to find your car in a parking lot, which they use as an example. The accelerometer tracks direction and steps, while the pressure sensor detects altitude shifts to indicate traveling on stairs or an elevator. (The side-mounted compass does not pass data to the device.)
While a far cry from Mary-Jo's previous predictions, this is an interesting project, and I see merits in using activity-based navigation vs. absolute positioning, such as GPS, in many instances.

As an Amazon Associate I earn from qualifying purchases.