Microsoft's Surface 2 iPad Rival Is Dead
The Surface 2, Microsoft's first foray into making its own tablets and direct competitor to Apple's iPad and the Nexus line of tablets from Google, is no longer an active experiment for the company. Early this week, Microsoft representatives confirmed that it'd stopped making the Surface 2.
Business Insider is reporting that Microsoft confirmed the Surface 2's death on its earnings call this week. That's the same earnings call that Microsoft confirmed that the entire Surface line was profitable for them. In fact, Surface accounted for roughly $1.1 billion in revenue for Microsoft during the last quarter. It seems most of that revenue was generated by the Surface Pro 3 though, a fact that seems to have put the nail in the Surface 2's coffin.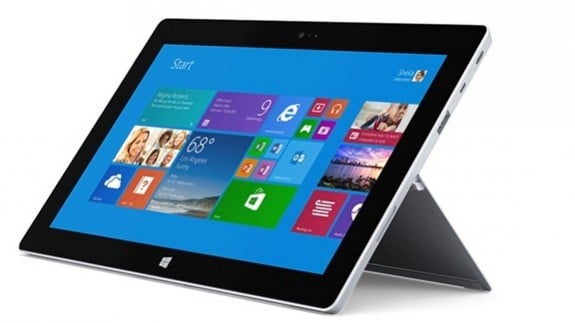 It's worth noting that Microsoft has yet removed the Surface 2 from its Surface website. Users desperate for a Surface 2 can't pick up the 32GB of 64GB versions directly from Microsoft's online store, but they can pick up the more expensive 64GB Surface 2 with LTE connectivity for $679. Microsoft is still showing free delivery for this version. If and when the other versions of the Surface 2 will return remains a mystery. Users might be able to still find a few of these models at Microsoft's retail stores, but that's not necessarily a given. Microsoft Stores are pretty few and far between too.
All told, Microsoft's decision to kill off the Surface 2 wasn't exactly a surprise. Announced back in 2013, the Surface 2 was Microsoft's first revision of the original Surface iPad-rival it announced a year earlier. The Surface 2 was more refined than its predecessor. It had a slimmer profile, a slick gray paint job, a faster processor and an LTE connectivity option that debuted months after the first Surface 2 became available for purchase. The Surface 2 is the closest Microsoft ever came to fighting the iPad on its own terms.
Read: Is the Surface 2 Worth Buying?
Unfortunately, fighting the iPad on its own terms is what got the Surface 2 into trouble. To offer the same battery life and connectivity Microsoft needed to use a special version of Windows, called Windows RT, on the Surface and Surface 2. Surface sales were initially positive, but tanked in the months after. There was plenty of blame to go around; the original Surface cost $499 without its custom keyboard cover. Microsoft sold the Surface 2 for $449, but wasn't able to sell enough of them to boost interest in the Windows Store. Without a big influx of users, Windows RT didn't get the apps users wanted. Without the apps users wanted, Microsoft had a harder time selling more Surface 2s.
Microsoft could have gone on making Surface's with Windows RT, but it'd have been in vain. Windows RT was only necessary because the full version of Windows and Windows RT wasn't up to the task. Today, Windows 8.1 devices regularly achieve the same battery life that the Surface 2 and original Surface did. What's more, they still have access to Desktop apps like iTunes. Microsoft's Surface Pro 3 has connected standby so that users can listen to music when its screen is technology off and more, again that was another benefit of buying a Surface or Surface 2.
Until Microsoft heavily discounts whatever remaining Surface 2 tablets it has left, it's a terrible idea to invest in one. The company has said that it plans on pushing an update to Windows RT devices that add features from Windows 10. That being said, Windows 10 won't come in full form to the Surface 2 or Surface.
The Microsoft Store website is encouraging shoppers to purchase a Surface Pro 3 instead of the Surface 2 models that are out of stock.

As an Amazon Associate I earn from qualifying purchases.