Microsoft's SurfaceWare Could Be A Bar Maid's Best Friend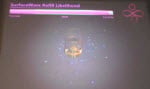 This, like so much we're seeing interesting from Microsoft of late, is still a research project for Microsoft Surface, but it looks like it has the potential to increase tips for that waitress or waiter in your local pub. SurfaceWare uses a Microsoft Surface Table, software and a glass with an optical prism designed into the base. When a glass needs a refill a signal can be sent to the server to come and offer a refill. I didn't know this, having never waited tables,   but apparently refill sales increase if you catch a customer with just the right amount of liquid remaining in the glass.

Via Engadget

As an Amazon Associate I earn from qualifying purchases.