MicroVision SHOWWX+ HDMI Brings HDMI to Pico-Projector Market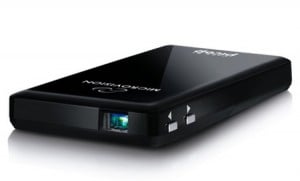 While pico projectors of yore have relied on VGA, RGB, or S-Video connectors, the updated MicroVision SHOWWX+ HDMI adds the digital HDMI connector to the small pocket-sized pico-projector. The change in technology shows the increased number of smartphones, tablets, and other mobile devices supporting an HDMI output connector.
Pico-projectors are small projectors that allow users to project videos, photos, presentations, and other content while on the go. Coupled with a capable smartphone, a pico-projector and phone solution may allow professionals on the go a working alternative to carrying a larger projector and a laptop. The potential here is the mobility afforded by the reduced size and weight of the pico-projector, though many of these projectors do not work well in a lit environment and would require near total darkness for the projected images to be seen. Many projectors can display up to a 50-inch picture in a dark environment.
Right now though, the pico-projector still cannot display full 1080p despite supporting an HDMI port. Instead, resolution is still capped at an FWVGA resolution of 854 by 480 pixels, which would give the displayed images and videos a 16:9 aspect ratio. Brightness is limited to 15 lumens.
The projector is priced at $369 and is expected to ship soon.
Many phones today ship with either a variant of the HDMI output, an MHL output that combines a microUSB port and HDML via a dongle, or come sans port in favor of a DLNA solution.
Via: SlashGear