Midomi: What Google Music Search Should Be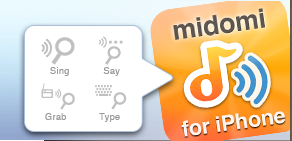 Today Google introduced Music Search, a feature that is supposed to make it easier for people to find and discover music. It'll be nice to have lyric search built right into Google, but there's a better solution out there called Midomi. I often use Midomi.com and the Midomi iPhone app.
There are several ways to search for a song with Midomi. You can search by typing in lyrics, an artist's name or part of the song title. You can 'Grab' part of a song by holding your phone or PC close to a speaker while your unknown song plays on the radio. But the real magic happens when you sing or hum a few seconds of a tune.
Midomi matches your singing or humming to that of other Midomi users rather than trying to match it to the original artist's voice.
There are an incredible number of samples in the database, making it easy to match your own recording. This means you don't have to sound good.
As expected, Midomi will track down just about any popular song from the past couple of decades with ease. But it doesn't end there. Midomi can track down older music as well. To demonstrate, I present my first and last public humming performance on GottaBeMobile. Click here to see the search results page for Besame Mucho and here for Misty. You can listen to my input by clicking 'review your search' in the top right hand corner. You can also hear which audio clips matched my voice.
Once you find the song your looking for you can listen to a clip of the song, buy it and watch related videos. Midomi is miles ahead of Google Music Search and is a much better bet if you can't name that tune.