Miitomo & My Nintendo Release Details Revealed
The torrent of exciting news for Nintendo fans isn't slowing to a trickle as the week progresses. We're closer to learning the Miitomo release date for owners of iPhones and devices running Google's Android operating system. What's more, we now have a rough idea of when the new My Nintendo rewards program will launch and how it'll work.
Nintendo discussed the new My Nintendo rewards program and Miitomo releases this week in an earnings call with investors. Miitomo was revealed to be the first launch in the company's partnership with developer DeNA last year. The two companies plan to introduced games for iPhone and Android using Nintendo's characters and concepts, but Miitomo is a chat app that uses Mii characters created by users. My Nintendo replaces the Club Nintendo program that the company offered for years before killing it off.
The Miitomo release date is set for sometime in March, Nintendo of Japan confirms in the materials provided to those researching its earnings online and a press release. Originally, the app was going to launch last year, but was delayed into this year for reasons unknown. The app will support only eight languages at launch, English, Dutch, French, German, Italian, Japanese, Spanish and Russian. In all, North America, Western Europe, Japan, Russia, Australia and New Zealand can expect Miitomo at launch.
Pre-registration for the Miitomo release starts on February 17th, a little more than two weeks from today. It'll be available on iPhone, iPad, Android phones and Android tablets. Users will be able to purchase extras for their Mii character through Miitomo, reportedly.
As for My Nintendo, the program appears to be a mix of Microsoft's Xbox Rewards and some fresh thinking from the Japanese gaming giant. The new program will launch in March, around the time that Miitomo makes its debut, Nintendo says in that press release sent out moments ago.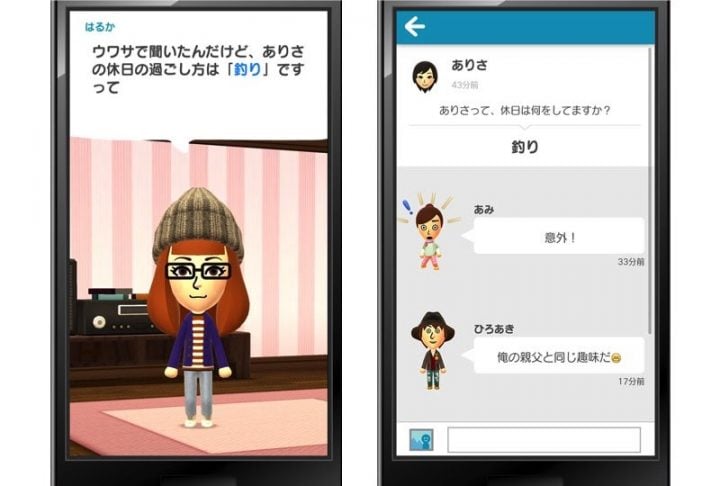 Countries in North America, Europe, Japan, Russia, South Africa, Australia and New Zealand will all get access to My Nintendo at launch. The company is promising access to 39 different countries in all. Players will earn points for checking in to the Nintendo eShop every so often. These Platinum points will be good for buying themes and wallpapers, for example.
It's not until users purchase something that they get My Nintendo's other currency, Gold points. Gold points come from actually buying things through the Nintendo eShop on Nintendo's consoles and handheld devices. In turn, gamers can use Gold points to purchase new games for cheaper than they'd normally be. How big of a discount remains a mystery. It doesn't appear as if users will be able to rack up Gold points to get entirely free games, but that's not clear just yet.
Certainly, the Miitomo release and news about the My Nintendo aren't as exciting as news about the new iPhone and Android games that Nintendo continues to tease. There's no news about those titles just yet, unfortunately. That being said, Nintendo does say in the press release sent to Gotta Be Mobile that it plans to unveil five different games between this March, when its mobile partnerships pick up steam, and March 2017. Tying these games to other parts of Nintendo's ecosystem are Nintendo Accounts.
It seems safe to assume that Nintendo Accounts will also tie together other parts of Nintendo's ecosystem too, like Pokémon Go and the often talked about Nintendo NX console that we expect to her more about sometime mid-year before it's release in October or November.
All of these different experiences are a chance for Nintendo to introduce itself to a new generation of gamers that do play mobile games, but may never purchase a dedicated mobile gaming console.

As an Amazon Associate I earn from qualifying purchases.