Mikey Shorts: Mario Bros for Android Clone You Need to Play
Now that the ridiculous excitement of Flappy Birds is starting to die down, today we're taking a look at a mobile game that will actually be worth playing. Something users can enjoy. It's called Mikey Shorts, and this hit iOS side-scrolling game is finally on Android.
Mikey Shorts is the Mario Bros clone for Android many have been waiting for. Available for the better part of a year on iOS, Mikey Shorts finally arrived on Android late last month, and the $0.99 cents price is certainly worth the entertainment and nostalgia. This Mario-style platformer game is extremely addicting, and will have you trying to save Princess Peach and collect coins through 84 exciting levels.
While you won't be facing bosses trying to save the princess like in Mario Bros, Mikey Shorts still has plenty of achievements, bonuses, and things to keep players interested for weeks and weeks, rather than getting bored in a matter of hours. There's 84 different levels, tons of coins to collect, and even time-trials to enjoy.
The game is exactly what you'd expect from an old-school platformer, and have you thinking of the old Mario Bros days in no time. Players will run, jump and slide to avoid obstacles while saving people, and ultimately the princess. The 84 levels are available across two different game modes, and there is 6 different unique environments to play through.
There's more than just nostalgia here too. The game has integrated Google Play Games for ratings and leaderboards, not to mention the coins can be saved up to purchase over 170 disguises for Mikey. Then they have a 3-star rating system for time-trials on each level, and you can even race your own ghost similar to Mario Kart.
Here's what to expect from this $0.99 cent game for Android and iOS.
• 84 different levels across 2 game modes
• 6 unique environments
• Choose from over 170 disguises to wear
• Finish a level fast to earn up to 3 stars
• Golden Shorts are hidden in all Story levels
• Race against a ghost of your best score
• Split times at gates show +/- your best score
• Earn achievements both online and offline
• Quick retry button for restarting a level
• Ability to customize controls
• Adjust transparency of the control buttons
• View various game stats
Each level has lasers that you won't be able to pass through until you've saved all your friends, which are turned into statues throughout the level. So while the coins are necessary to collect, you'll be able to buy tons of hats, cloths, and other disguises for Mikey to finish other levels in style.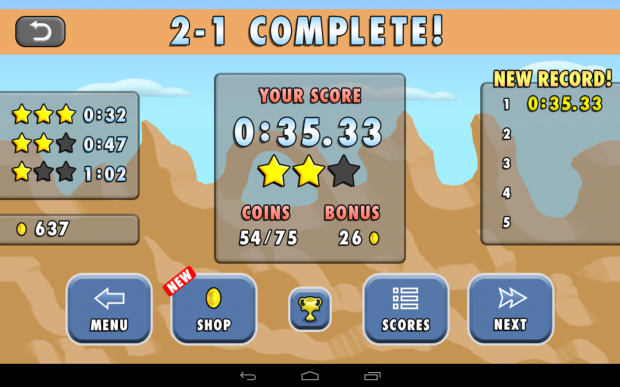 You can earn achievements through Google Games, even while offline, and the developers allow you to customize the location and opacity of the controls for an even better gaming experience.
Lep's World 3 is another quality (and free) Mario-style game available for Android, but Mikey Shorts is an awesome and entertaining game that's been extremely popular on iOS, and is now available for all Android users. Get it now for $0.99 cents from the Google Play Store.

As an Amazon Associate I earn from qualifying purchases.