MiLi Pico Projector: Turn Your iPhone into a Video Projector [Review]
The battery-powered MiLi Pico Projector V2 casts a small image onto a wall or screen for mobile video viewing or for presentations. The Mili product adds a few tricks to mobile video projectors, such as including battery power for untethered mobile video projection and an iOS dock so you can connect your iPhone, iPod Touch or even in a pinch, an iPad. In addition the projector includes a VGA adapter cable so you can hook up a laptop, and it also includes an RCA AV adapter so you can plug in your VCR or camera if you want.
What kind of video quality can you get with such a diminutive video projector? My tests showed mixed results, depending on the environment in which you use it. I docked an iPod Touch, iPad and hooked up a computer through the VGA adapter. With help from my family, we watched a full-length movie and some short YouTube clips. I also tried to display a Keynote presentation while hooked up to my MacBook Air.
Video Review
Features
The MiLi Pico Projector V2 (model HP A10) provides a number of connections for viewing video content. You can dock your iPhone and iPod Touch to the cradle. This seems to be the primary purpose with the other connectors added in to provide more value. I even tried it with my iPad and it worked, although the fold out stand that holds it up wobbled under that much weight. Docking an iPad works, but I wouldn't trust it for mission critical needs.
In addition to the iOS dock you get a VGA Input on the side hidden by a plastic cover. When opened, the cover reveals the proprietary input that requires an adapter cable. An AV cable (the red, white and yellow variety) can also be used to connect a VCR or other video equipment like a camera to the projector with very low quality video signal. The connector hides behind a second cover on the opposite side.
When you open the projector, kick out the stand and aim the lens at the wall, you have a set of touch sensitive controls for volume, blanking the screen, and turning the projector on/off. The built-in speaker provides a little sound that might be useful if you were in a very quiet room all by yourself, or had one or two others who remained very silent. Otherwise, I suggest connecting a separate set of speakers to get adequate sound. The speakers in the MiLi Pico Projector are mostly inadequate, but the AV Input connectors have an audio out jack.
Image Quality
The projector's very low VGA resolution results in fuzzy, low quality images. In an HD era 640×480 (which is half that of 720p) watching movies at that low a resolution cast on a wall or screen at 40″ can be painful. Images look better though the dock connector than they did via the VGA adapter, but better won't be good enough for most of us. Being able to carry a projector in your pocket can be convenient, but the image quality trade off might be too big for discriminating viewers.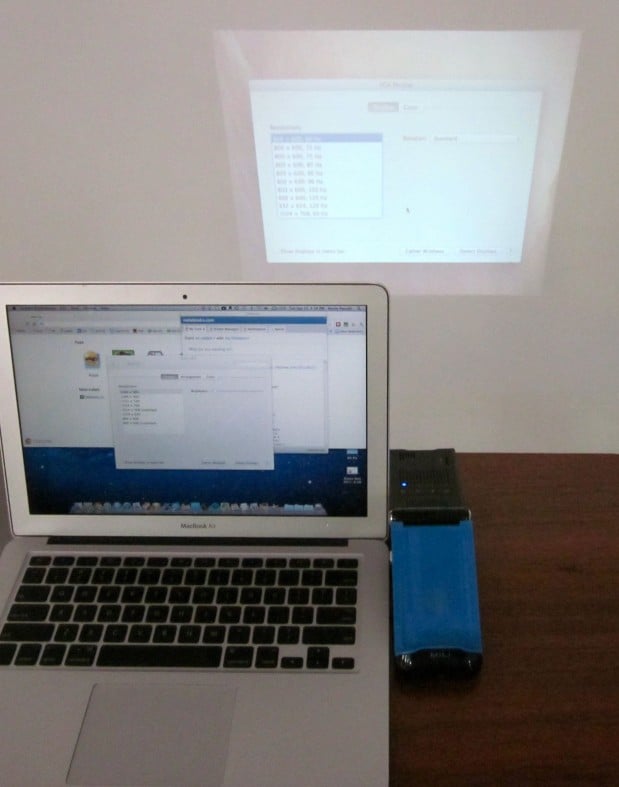 The LED liquid crystal on silicon (LCoS) lamp shoots an image up to 70″ with a 40″ image being the ideal size. In my tests at 70″ the image fades too much. I'd never watch a movie or show a presentation with the display looking that bad. At 30-50 inches the image was acceptable in a pitch black room. You have to movie in close enough that the image shrinks to about 20″ to make it usable in a room with medium lighting.
Like all projectors, the MiLi needs to be focused. The focus wheel on this projector is recessed a little too much to focus the lens with precision.
Build Quality
The projector feels solid and all the inputs fit securely. The stand holds up when you don't put anything too heavy on it, like an iPad. At first I was surprised that the iPad even worked, however they do advertise that it was made for iPhone, iPod Touch and iPad. While the iPad fits and you do get an image and sound through the dock connector, I would not trust the projector with an iPad on it in a mission critical situation. I can just see the whole thing topping over as someone bumps the table leg during the presentation. You're better off connecting the iPad through an Apple VGA to Dock adapter hooked up to the included VGA cable.
The durable hinge swivels the projector lamp out, revealing the controls and speakers. I'm not worrying about that hinge getting lose or breaking because it feels sturdy. The leg does too, so long as you are using it with lightweight devices. The touch sensitive buttons means no moving parts and less potential for breaking. The little covers that hide the connections feel like they will last if you don't abuse them and the remote and cables seem to be of sufficient quality. You even get a nice carrying bag.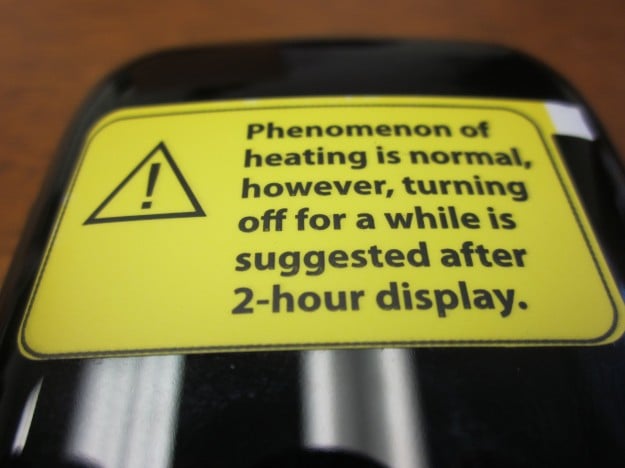 The hosting has a warning sticker that tells you the projector can get hot. I didn't notice undue heat, but I'm sure they are just protecting themselves from a frivolous lawsuit.
Battery Life
The 2800 mAh battery provides an advertised 3 hours of battery life. It lasted through a full-length two-hour movie and had battery left. If you don't have an iOS device docked it will last even longer since the dock connector also powers the iOS device. You can also connect the projector to the AC with the included power cord and charge both the projector and the phone.
If you were in a hotel room and wanted to watch a movie, you could dock your iPhone or iPod Touch, watch a movie and top off the iPhone or iPod's battery as well, thus only needing one power cord on the road.
MiLi promises that the battery will hold a charge for up to 14 years, 20,000 hours with 4 hours of daily use. Obviously we can't test that.
Value and Recommendations
The idea of always having a video projector either in the accessory pocket of my backpack or in my pocket enticed me. Under certain conditions, as we explained above, it works.
Because the lamp can't cast a bright enough image, you won't be using this for large presentations in a room with even a little bit of light. Close to a white wall I was able to get a decent image. The dim light disappointed me since the description at xenGadget says:
Enjoy pictures, movies and YouTube with your friends at home, in the bar and restaurant, and just about anywhere, while extending the battery life.
The bar, restaurant or other location will have to be very dark for it to work well enough for you and your friends. If you just want to show a video quickly on a wall or even the table at a size of 20″ it will work. Much larger, and the room has to be very dark. In a bright room, don't bother taking it out of the bag.
I would only recommend the MiLi Pico Projector V2 for the following people:
Road Warrior who watches a lot of movies on an iPod Touch or iPhone in dark hotel rooms at night
Student with a white wall who can turn off all the lights to watch a movie
Business people making presentations in very small rooms with full control over the lighting
The folks at xenGadget provided us with the review unit. They will sell you one for $449.95.
The MiLi Pico Projector is one of those products that I got very excited about having a chance to review it. Sadly, it just didn't live up to my expectations. Unless you fit one of these categories above, then save up for a more powerful projector and give up on the convenience at this time.
Pros
Convenient size
Well-built
Versatile with multiple inputs
Good battery life
Cons
Poor image quality in room with ambient light
Weak built-in speakers
Focusing wheel hard to access
Wobbly with iPad docked
Very low resolution

As an Amazon Associate I earn from qualifying purchases.