Mimo 720-S External Touchscreen Now on Sale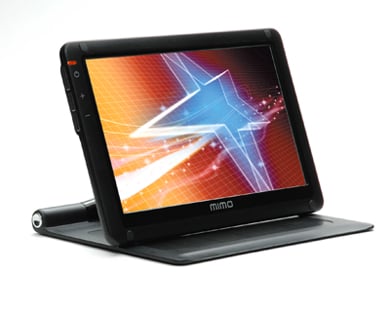 Fresh from the Business Wire, Nanovision's portable USB touchscreen mini-display, the Mimo 720-S, is available for purchase. Why might you want one?
With just a simple DisplayLink USB connection between the MIMO and laptops, netbooks or desktops, people can use the mini-monitor to expand their visual space providing more room to keep an eye on fun social media apps like Twitter, Facebook or instant messaging; more space to set up business tools like stock charts, calendars and task lists; and more flexibility to showcase anything from digital photos to Apple iTunes selections.
The big selling point on this particular model is the portability. Another model, the 740, also offers a touchscreen, plus a webcam and microphone, but good luck fitting that stand-up unit in your backpack properly. By contrast, the 720-S folds flat and weighs under a pound. Definitely the more mobile pick.
The 720-S is driven and powered via USB; no additional video ports or AC adapters required. One caveat: if you don't have a single USB port that can meet the power requirement, you'll need to use two ports (and they do include a second cable for that). Specs after the jump, and here's a link to a review by Slashgear.
Specs
Display size: 7″
Display resolution: 800 x 480
Brightness: 350 cd/m2
Contrast ratio: 400:1
Connections: USB 2.0
Features: Resistive Touchscreen, Monitor Pivots 90 degrees, Integrated Stand and Cover, Ultra-portable, weighs less than 1 pound, CE FCC RoHS

As an Amazon Associate I earn from qualifying purchases.