MindJet Releases MindManager 8, GBM Is Giving Away One Free License!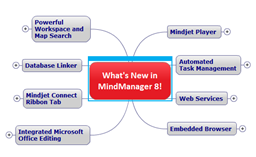 MindJet has officially unveiled MindManager 8, the latest installment to their very popular mindmapping program. There are a ton of new features under the covers that help keep you inside MindManager while brainstorming, researching, planning, and managing projects — keeping all the information you need just a topic away.
I've been beta testing MindManager 8 for about a month now, and although there are no new tablet pc features, I think mind mapping folks will be quite impressed. A free 30 day trial is available. Upgrades are $129, while a new license costs $349.
Contest Time: We think   MindManager is such an indispensible tool for the Tablet PC user, we are giving away one license to a lucky GBM reader.   All you have to do to enter is post a comment to this article about how mind mapping and the new features in MindManager 8 will help you in your day to day work. We'll pick a winner sometime on Wednesday, so hurry up and get your entries in!
Meanwhile, stay tuned for an InkShow as I demo all of these new features, as well as go over the tablet pc features.
Mindjet Player
Communicate your vision and ideas with the world by transforming your map into a fully interactive Adobe PDF file. Or publish it as an interactive Adobe Flash file to a Web page or blog. Recipients do not need to download and install any software — most desktops are already equipped for consuming these standard file formats.
Automated Task Management
Get a quick overview plus ongoing progress on all project tasks—automatically. Visual cues and status indicators allow you to quickly determine the status of critical activities. View the ripple effect of any changes to a map and even run ""what if" scenarios to see the resulting outcomes.
Integrated Microsoft Office File Editing
View and edit attached Microsoft Word, Excel, Project and PowerPoint files within MindManager. No need to disrupt your focus by constantly switching between applications — it can all happen from your map.
Integrated Web Content
Fully leverage the incredible information resources of the Internet by initiating Web searches right from a map. Real-time search results will appear whenever you view your map. Build your own Web service to add information from your company's information systems.
Embedded Web Browser
View Web pages and Adobe PDF documents without leaving your map. You'll retain your train of thought by staying focused on work at hand.
Database Linker
Setup and display real-time information in your map from databases, Excel spreadsheets, CRM systems and other company resources. Just imagine how much more productive and focused you'll be with your most critical business data right at your fingertips.
Powerful Search
MindManager now lets you search through your maps and all attached documents with ease. Or use one of today's popular desktop search applications. Rest easy, knowing any bit of information you may need is just a quick search away.
Mindjet Connect Ribbon Tab
Enjoy fast access to all Mindjet Connect features and management utilities.

As an Amazon Associate I earn from qualifying purchases.