Minecraft Story Mode Release Date Revealed
Microsoft and video game developer TellTale Games is finally ready to reveal the release date of Minecraft Story Mode and the two companies have some huge surprises for Minecraft fans. There isn't a single Minecraft Story Mode release date. There are two separate Minecraft Story Mode release dates.
Microsoft revealed more Minecraft Story Mode details in a post on its Xbox Wire news blog this week. Announced earlier this year, Minecraft Story Mode isn't a traditional sandbox and survival game in the way that other Minecraft titles are. It's an episodic story adventure, with a defined narrative and characters.
Minecraft Story Mode is coming to the Xbox One, Xbox 360 and PCs running Microsoft's Windows 10 operating system on October 13th. To be clear Telltale and Microsoft will only release the first episode in the series for players, called The Order of the Stone on this day. It's not saying when other episodes will début. There'll be five nearly self-contained stories in total. The trick is that this release date is only for digital copies of the game. In a somewhat surprising twist, a second Minecraft Story Mode release date of October 27th will include a physical copy of the game available in retail stores like GameStop and Best Buy.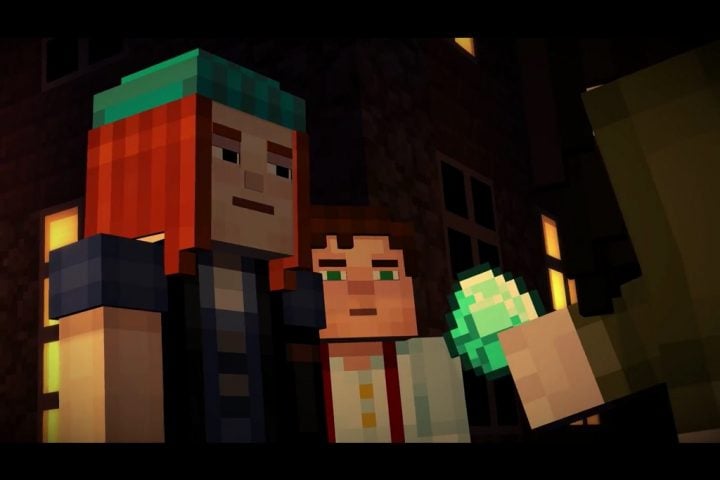 Minecraft Story Mode is coming to TellTale's online store for Windows PCs and Macs, Steam, PS4 and PS3 in addition to Xbox One. A mobile version of the game arrives in the iTunes, Google Play and Amazon App Store on October 15th. Versions for Wii U and PlayStation Vita are coming too. There aren't any release date details on those yet though. GameStop has already opened pre-orders for Minecraft Story Mode on its website. Each copy costs $29.99.
The two companies will work together delivering the other episodes over time. Once The Order of the Stone arrives there wont be another Minecraft Story Mode release date until 2016, according to today's post. Presumably, all of the episodes will launch sometime in 2016, but neither Microsoft nor TellTale have confirmed that.
Minecraft Story Mode centers on Jesse, a male or female character, that goes on adventures in Overworld and other locations. Jesse is attending EnderCon when he meets up with a warrior from the Order of the Stone. Only through teaming up with friends does Jesse and the Order of the Stone stand a chance of saving the world.
Minecraft is a multi-platform juggernaut. Kids and adults alike love the game's survival mode and giant sandbox where they can build anything they want with the result tools, materials and a robust imagination. Many first speculated that Microsoft would move to keep future Minecraft games onto its platforms but that's not true. It doesn't look as if there'll be any advantages to getting Minecraft Story Mode on Microsoft's platforms instead of other consoles. For example, it doesn't appear as if buying the Xbox 360 version unlocks the version for Xbox One when users upgrade.
Read: Minecraft Story Mode: 5 Things to Know
Minecraft Story Mode is one of two new versions of Minecraft to debut this year. Microsoft announced earlier this year that it'd release Minecraft Windows 10 Edition this summer in beta form. Right now users can purchase this version of Minecraft in the Windows Store for half off its normal $19.99 price and get Xbox Live multiplayer and Xbox controller support.
Microsoft also has a version of Minecraft coming for its HoloLens headset. This version lets Minecraft Windows 10 Edition players experience their game worlds on a table. The HoloLens headset runs Windows 10, but we don't have a price tag or release date for it. Besides running games, HoloLens also has apps and communication tools. It's a self-contained Windows PC in every sense.

As an Amazon Associate I earn from qualifying purchases.