Minecraft Wii U Edition Release Date Revealed
Minecraft, the worldwide phenomenon that's inspired a few copy cats and millions of adults and kids alike, is getting a new addition soon. In an announcement on its website, the game's developer revealed that there's a Minecraft Wii U Edition in the works for those that own Nintendo's current generation console.
Mojang announced Minecraft Wii U Edition this morning in a post on its online blog. Mineraft is arguably one of the most popular games in the world. For sure, it's the best-selling game of all-time on Windows PCs. The survival game forces players to hunt down resources and build structures before waves of enemies come at them in the dead of night. The game's sandbox mode is a bit more relaxed than that and a big reason the game is so popular. In it, players have the tools to create whatever they want. An enterprising YouTuber built a working smartphone, complete with web browser for Verizon last week.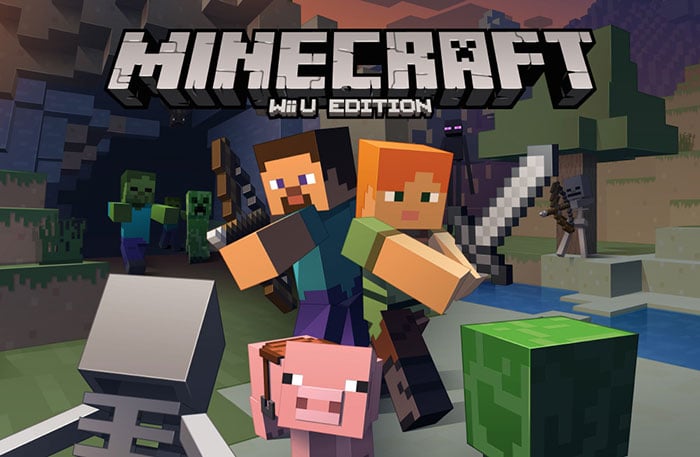 Read: Stunning Minecraft Phone Even Has Video Calling
The Minecraft Wii U Edition release date is December 17th. On that day owners of the console will be able to download a version of Minecraft made explicitly for their console. There are improvements to this version that aren't included in the other versions. For example, gamers can play on the Wii U's GamePad instead of on their television if they prefer to watch a video while playing the game.
Mojang says it'll have other details about Minecraft Wii U Edition before its release day. In the meantime, it's providing details about the game's price. Minecraft on other living room consoles costs $20. Minecraft Wii U Edition will cost $29.99. The difference in price is to account for some content packs that are included with this game free of charge. It does reveal that those who buy the game will get free updates to the core game. A video that companies the Minecraft Wii U Edition announcement doesn't provide any more details about the game and its upcoming launch.
A separate post by Nintendo does reveal what add-ons come with Minecraft Wii U Edition. Battle & Beasts Skin Pack, Battle & Beasts 2 Skin Pack, Natural Texture Pack, City Texture Pack, Fantasy Texture Pack and Festive Mash-Up Pack. Those add-on packs that Mojang teases will be available as separate purchases. Mojang and Nintendo are committed to delivering the Festive Skin Pack, The Simpsons Skin Pack, Doctor Who Skins Volume 1, Doctor Who Skins Volume 2, Star Wars Classic Skin Pack, Star Wars Rebels Skin Pack, Star Wars Prequel Skin Pack, Mass Effect Mas-up Pack, Skyrim Mash-up Pack, Plastic Texture Pack, Candy Texture Pack, Cartoon Texture Pack, Steampunk Texture Pack, Pattern Texture Pack, Greek Mythology Mash-up Pack and Halloween 2015 Mash-Up Pack.
Getting Minecraft is a very big deal for Nintendo. In fact, Minecraft is available on so many platforms that it's hard to believe it wasn't already available on any of Nintendo's consoles – mobile or otherwise. There have been versions of Minecraft for Xbox 360 and PS3 for years. Minecraft is available on the Xbox One and PS4 too. Even iPhone, Android and Windows have their own versions, albeit they aren't as powerful as the console versions.
Microsoft purchased Mojang a few years ago. Since then, the company has been busy filling out the gaps in the Minecraft experience. There's a new Windows version that makes it very easy to stay updated and get the game installed without downloading extra tools and software. That version, Minecraft Windows 10 Edition is in beta and costs just $9.99. There's also Minecraft Story Mode for users that prefer an episodic game with a linear storyline and relatable characters. It's available on nearly every platform that the basic version of the game is.
It doesn't appear as if Nintendo and Mojang have any immediate plans to bring Minecraft Wii U Edition to retailers like GameStop. Its site isn't showing any available pre-orders for the game.

This article may contain affiliate links. Click here for more details.