MiniMage Reviews the Fujitsu U810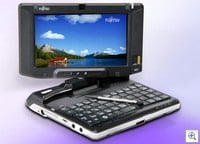 The Fujitsu U810 (or U1010 depending on your location), also affectionately known around here as The StormTrooper, continues to excite quite a few mobile warriors with its potential. Hugo did an InkShow awhile back and there have been numerous reviews of this published. MiniMage has joined the ranks of those impressed with this small Ultra-Mobile PC and published a review of it on TabletPC Buzz. Here's an excerpt:
While it's not the speediest portable I've encountered, I found the U810 to be quite capable of assisting me with both work and play. I stayed primarily in OneNote, Outlook and Internet Explorer (always using multiple tabs), and they worked well, as long as I didn't try to have four or five applications running at one time. Sometimes there would be some sluggishness when I used the touch screen to launch apps or access menus, or when beginning to write in OneNote, but the system would catch up and react readily enough after the initial second or two. Sometimes I'd get some initial stuttering when watching a streaming video, but this didn't happen throughout the viewing, and I had no problems viewing video that was stored locally on the drive
Read the entire review here.

This article may contain affiliate links. Click here for more details.