Miniot's Wooden iPad 2 Cover Is A Gorgeous Alternative To Apple Smart Cover
It looks like Apple's Smart Cover for the iPad 2 might have some fierce competition from a product made by a company in Holland called Miniot.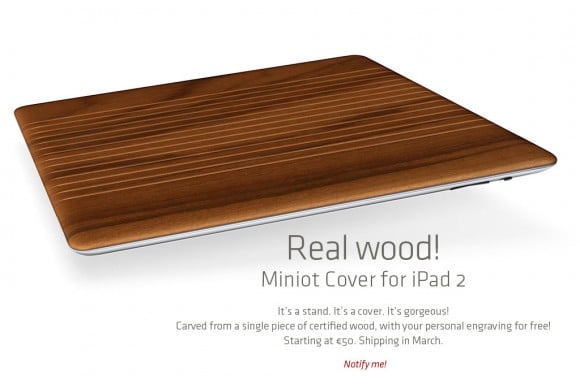 Miniot's iPad 2 cover (via TUAW) is carved from a single piece of wood and not only does it look gorgeous but it's also extremely useful. The cover acts in much the same way as Apple's Smart Cover. It uses magnets to hold the case snugly to the device and opening and closing it will awaken or put the iPad 2 to sleep.
Where it differs from the Apple Smart Cover is how it supports the iPad 2 when folded. Instead of folding into a triangle, the Miniot cover folds into a cylinder which makes it perfect for watching videos or using it in portrait mode.  As you can see in the video, it works extremely effectively.
The case goes on sale tomorrow and personal engravings will, for the time being, be free. It will cost you €50 which equates to $70, the same price that Apple is selling their case for. Not a bad deal whatsoever for a case that is not only extremely handy but attractive as well.
Miniot's Wooden iPad 2 Case
https://www.youtube.com/watch?v=4SI6K-k_rBo

As an Amazon Associate I earn from qualifying purchases.