Minisuit Bluetooth Keyboard Case for New Nexus 7 Review
The new Nexus 7 packs a lot into its 7-inch form factor, including a decent onscreen keyboard, but typing on a touch screen can frustrate the most dexterous among us. Minisuit tries to solve this problem with the Minisuit Bluetooth Keyboard Case for New Nexus 7.
We included this keyboard in our list of 12 Awesome New Nexus 7 Cases, primarily because its one of the few keyboard cases available. Does it sit in that impressive collection winning by default or does it measure up on its own?
In our test the Minisuit Bluetooth Keyboard Case for the new Nexus 7 improved the typing experience on a new Nexus 7. Physical keys, even if cramped and a little mushy, work better than a touchscreen keyboard most of the time. Hunt and peck typists, or those with very small hands, will see greater improvement than touch typists because of the size of the keyboard. It's difficult to type fast on such a small keyboard.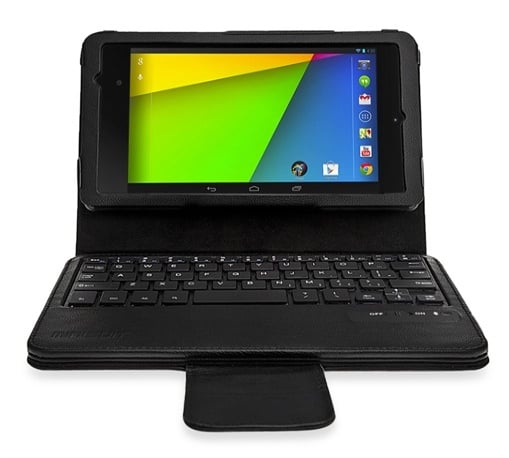 We like the PU leather case that houses the new Nexus 7 and keyboard. It felt and looked better than we expected from the $30 price tag. On back we get a kickstand that holds the tablet at a perfect angle for typing. It makes the tablet feel thicker since it adds another layer to the case and keyboard. The case triples the thickness of the new Nexus 7, but doesn't add too much weight. The case also gives owners the screen wake/lock feature when closing the case.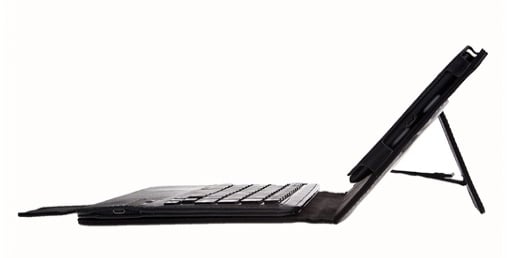 We recommend the case for those who need a keyboard case at hand most of the time because they primarily use the new Nexus 7 as a writing tool. Others should get one of the other cases in our case round up and buy a larger Android keyboard to keep around the office or house only for the occasional usage. We like the Logitech Tablet keyboard, which retails for almost $80, but works great. Shop around, because we've seen it for as low as $30-$40 on eBay or close to $50 with shipping at B&H Photo.

As an Amazon Associate I earn from qualifying purchases.