Misplaced Valuables Will Be a Thing of the Past for HTC as Fetch Goes on Preorder
A new HTC accessory called the HTC Fetch has gone on preorder in the U.K. allowing users to locate and track their misplaced valuables with a Bluetooth-enabled smartphone. It's unclear if HTC has plans to directly bring the Fetch accessory to the U.S. market at this time through either retailers like Best Buy or carrier stores like those managed by AT&T Mobility, Sprint Corporation, T-Mobile US, and Verizon Wireless.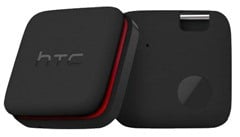 The HTC Fetch is a small accessory that you can attach to keyrings or place inside a bag, briefcase, or anything small that you are likely to misplace, leave behind, or forget. The accessory pairs with a smartphone over Bluetooth and has a range of about 15 meters. Once the user, presumably with a smartphone, wanders out of the 15-meter range, the phone will create an audible alert to remind the user that they aren't with the valuable that Fetch is attached to.
In this case, the smartphone will show the last known location that the phone and HTC Fetch were last seen together on Google Maps, and users can try to relocate their steps to find it. So if you forgot your purse somewhere and don't know where it is, now you'll have some peace of mind in knowing that it's safely stored at work, for example.
Conversely, if you had misplaced your smartphone, you can also press a button on the HTC Fetch accessory itself. If your phone is within the range of Fetch, Fetch would activate the camera of the phone. As the phone snaps a picture, the image is uploaded online via the device's connection and you can, hopefully, deduce where the phone is in the room based on the image captured. If you see couch cushions, it may be in the living room, for example.
The accessory costs around $40 and is now up for preorder at the Clove Store. Availability information is not yet known at this time.
With the IFA trade show just around the corner, perhaps HTC will give more details about this accessory at that venue next month.
In addition to HTC Fetch, there have also been a number of Bluetooth tags that can perform similar functionality as Fetch that are available through Kickstarter campaigns.
With Bluetooth 4.0 Low Energy now adopted as part of Android 4.3, tags and trackers will continue to evolve and won't have significant impact on a phone's battery life. Bluetooth LE has been on iPhone for some time now and the feature will be enabled on a number of Windows Phone devices with the appropriate software update so there should be some cross-compatibility in the future.