MIU HDPC With Atom Processor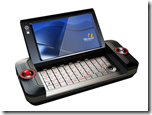 The MIU Hybrid Dual Portable Computer looks to be coming in behind the HTC Shift sporting a dual OS, one being Windows XP and the other yet unknown.   With the flip up screen and long list of features including GSM, GPRS and CDMA this little unit might just be the ultimate phone, PDA, Netbook – all around communication device.   It could almost be the "all in one" device while on the road that many desire.   Plus, packing an Atom processor, running XP should be no problem at all.   Now just to wait and see if MIU has the same 'half way in between thumb typing and touch typing' keyboard that makes similar devices somewhat unusable.

As an Amazon Associate I earn from qualifying purchases.