MLB.tv: 8 Things to Know Before You Subscribe
MLB.tv is an incredible service, but you should know exactly what you're buying before you sign up.  Blackout restrictions and other nasty surprises can frustrate MLB.tv Premium subscribers. In this article, I'll explain the fine print and explain the one thing you must do to avoid getting bill shock.
As an avid San Francisco Giants fan, I've subscribed to MLB.tv subscriber for years.  The streaming video and audio service makes it easy to watch games from all around the league that I wouldn't otherwise have access to. I also enjoy being able to watch condensed games and re-watching memorable games from past seasons.
As much as I enjoy MLB.tv,  the service can't fully replace many fans' cable or satellite subscriptions. I only recommend MLB.tv to fans that understand the limitations of MLB.tv.
Related: Learn What's New in MLB 17: The Show
MLB.tv Yearly Subscription is the Only Way to Go
MLB.tv offers three subscriptions tiers, but you should do your best to avoid two of them. The MLB.tv Premium Yearly subscription costs $112.99 per year and is what most fans interested in the service should sign up for. It may sound steep, but it's a much better option that the MLB.tv Premium Monthly subscription, which runs $24.99 per month. That adds up to $174.99 for all eight months of the baseball season. MLB offers  a single team subscription for $87.49 per year, which is $25.50 off the full league, but you may as well pay the difference so you can catch games that don't involve your favorite team, such as those that decide playoff berths, potential no-hitters and big matchups.
MLB.tv is Free for T-Mobile Customers
If you're a T-Mobile customer there's no reason to spend a dime on MLB.tv for the 2017 season at all. That's because the wireless carrier is offering all of its customers a free year of MLB.tv Premium through its T-Mobile Tuesday app. The app is the only way to get the promo. You can download the T-Mobile Tuesdays app for iPhones here and the app for Android phones here.
T-Mobile customers must use the app to redeem the deal, but can watch games on any device. If you're on a family plan, each user can redeem the free MLB.tv subscription independently. Just remember to turn off the automatic subscription option, which we'll detail more further down this page.
MLB.tv Blackout Restrictions
One of the most frustrating aspects of MLB.tv is its blackout restrictions. With 162 games per year, your favorite team can appear on several different networks and it can be difficult to track when and where you'll actually be able to watch your favorite team's live games. The MLB.tv service is able to detect where you're watching from automatically and block you from watching the live games that matter most to you.
In general, if you can watch your favorite team's games on broadcast, satellite or cable TV, then the games will be blacked out on MLB.tv. This means that you can't watch live Yankees games on MLB.tv if you live in New York, Giants games if you live in San Francisco, or Cubs games if you live in Chicago. That's because each baseball team has a contract with a regional broadcaster to produce and air live games. To make matters even some games broadcast by ESPN, ESPN2, FOX, FS1 and TBS are blacked out. If you're a cable or satellite TV subscriber, MLB.tv will allow you to authenticate your TV subscription and watch most nationally TV games.
If you live outside of your favorite team's local TV market, you'll have the best experience and experience fewer blackouts. But be aware that some team's blackout zone extends well beyond city limits. In one extreme example, those living in Guam are blocked from watching live San Francisco Giants and Oakland Athletics games. Before you subscribe, head over to MLB.tv's Blackout Restrictions page and enter your zip code to make sure you can actually watch live games of the teams that matter to you.
Postseason games are blacked out as well. Depending on which network is airing the particular postseason series you're interested in, you may be able to watch if you're subscribed to an eligible cable or satellite plan.  MLB.tv airs an awful version of postseason games in a lackluster attempt to appease subscribers called alternate views, which doesn't included commentary and is pretty much unwatchable.
MLB.tv 'Follow Your Team' Isn't Complete
The Follow Your Team service costs $10 per team and lets fans watch out-of-market teams when they come visit your hometown. This only works if you're subscribed to a regional sports network that is broadcasting the games and you want to watch on your computer instead of your TV. If that sounds kinda wonky that's because it is. This feature won't be available for fans who want to watch live games involving the Baltimore Orioles, Washington Nationals, New York Yankees, New York Mets and Los Angeles Dodgers.
Follow Your Team is only available to yearly subscribers.
You Might Not Need to Subscribe to MLB.tv to Watch Live Games
If you're a cable or satellite subscriber you might not need to subscribe to MLB.tv if all you're after is live games featuring local teams. That's because many regional sports networks, including NBC's, are allowing customers to stream live baseball games within their apps for the first time this season.
No, you won't have access to every MLB game with this method, but you can set your DVR to record all of your favorite teams games to fill in the gaps when you can't watch live.
MLB.tv Premium Subscription Automatic Renewal
Every year I hear from people that complain about unexpected credit card charges for MLB.tv subscriptions.  That's because the fine print in MLB.tv's terms of service state that all subscriptions will be renewed prior to the start of each MLB season. That's generally before spring training in February each year, well before most people are mapping out how they're going to watch their favorite teams play the regular season.
All MLB.tv subscription tiers are automatically renewed, including the monthly plan. Remember, the monthly plan is technically a payment plan, so once you're billed for the first month each year, you're on the hook for the remaining payments.
In order to avoid MLB.tv bill shock, I strongly suggest turning off automatic subscription renewal. You can visit this page at MLB.tv to turn off your automatic renewal or re-enable it down the road.  I made the mistake of keeping the automatic renewal turned on and MLB.tv charged my credit card for the annual fee, which I could have avoided entirely since I'm a T-Mobile customer.
MLB.tv Can Gobble Up Your Mobile Data Limits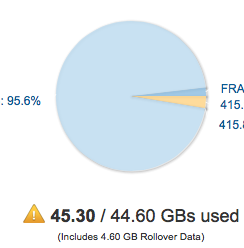 If you have fantasies of streaming non-stop baseball on your iPhone or Android device while going about your daily business, you may run up against data limits or get hit with overage fees. Even if you're on an "unlimited" plan, there are still indeed limits. In most cases, once you exceed whatever your wireless carrier considers excessive, your 4G LTE speeds will be slowed down substantially until your next billing cycle. So be sure to use WiFi with MLB.tv whenever possible. Streaming a single MLB.tv baseball game can eat up a few GB of your data plan.
Guess what happens to my data plan every September and October as baseball teams fight to secure postseason berths? That's right, I end up going over my data limits, even though I have a 40GB plan with rollover from AT&T.
MLB.tv Live Games Are Delayed…a Little
Baseball games on MLB.tv are delayed by several seconds, which isn't that big of a deal in most cases, but it can be annoying in a couple of cases. Sometimes push alerts from MLB At Bat, ESPN and other apps will reach appear faster than the action on the live stream. Again, not the end of the world, but somewhat annoying.
The slight time delay also makes it difficult to watch or listen to games live from MLB ballparks. Sure, baseball purists will tell you that you should just pay attention to the game on the field, but it's impossible to get broadcaster commentary or replays from looking at the grass. The delayed commentary is unbearable, so just stick with an AM radio and earphones if you're looking for truly real-time coverage.

This article may contain affiliate links. Click here for more details.