MLB Will Use iOS 7 iBeacons for Customized Fan Experience
The MLB At Bat app for iOS 7 plans to integrate the new iOS 7 iBeacon feature into the app so baseball fans can enjoy a special customized fan experience when they attend a game.
When fans attend a game, they will get special features thanks to the new wireless technology. With iBeacons, iOS 7 users with a Bluetooth 4.0 device will receive "mirco-location" awareness that lets the device connect to a radio in the park. Once the phone and park Bluetooth radios connect, the user can open the MLB At Bat app and enjoy features only available to game attendees.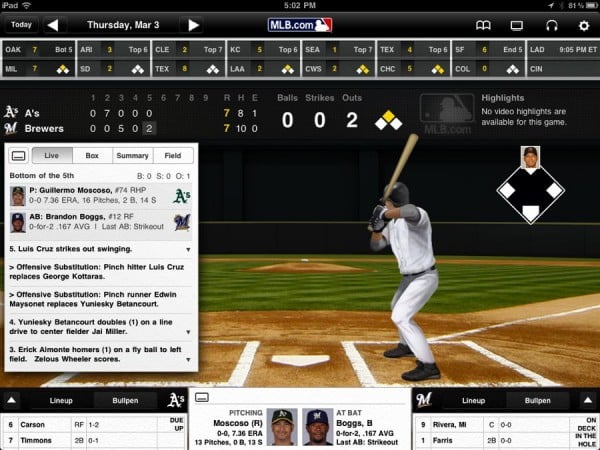 iOS Beacons works like to NFC, which quickly connects two devices with an NFC chip. With iBeacons, the two devices use BLE or Bluetooth Low Energy chips. Think of it as a more robust implementation of near field communication. iBeacons let the phone know that the user is at a specific location within feet. Software on the phone then takes advantage of this connection to do certain tasks. With NFC a user could check into a business using FourSquare or Facebook.
Once an iOS 7 user loads the MLB app, the app connects to the stadium's Bluetooth radio and shows the user special features. Here's a few that might get included in MLB At Bat in the near future:
Stadium Guide – information about that park

Ticket Bar Codes purchased online for the day's game
Map to the seats
Game information just for attendees
Ball park information for those interested in the history
Team info for serious fans
User specific customized data or media
The last item makes the service and app different for different fans. A hard-core baseball fan may get more detailed information, like the stadium's history in video form or more detailed stats about players, teams and games. The average fan may see less of this information. New fans might get more help finding their way around the grounds. The app could let fans customize what they want to see. Some may want menus of concessions, while others don't care.
According to the report at TUAW, the MLB At Bat app developer started working on this feature in February. We don't know when the support will show up in the app. Could it get updated for the postseason as a trial run since fewer fans can attend a limited number of games? Then maybe they will roll it out widely at the start of the 2014 season.