Mobile Entertainment Wars: iPod Touch Screen Takes Aim At Microsoft Zune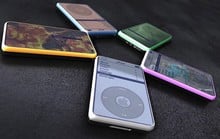 Not Tablet PC or UMPC related really, (although a UMPC still looks like more than a reasonable alternative to me as a mobile entertainment device) but certainly mobile entertainment related. The latest round of rumors now claim that the iPod touchscreen device is due out in December, which if true certainly puts some coal in Microsoft's Zune stockings. (Although I'm guessing most folks interested in this won't see them until sometime in the first quarter of 2007.)
The details on this are really no different than what has alread been reported, other than that the screen is 480p resolution. Trusted Reviews has the scoop. And for those who need a refresher here's a link to all those patent drawings that lay out how the touchscreen is supposed to work.
Who knows? The way things are going, Apple might even throw in a free Windows virus with every new touchscreen iPod. (Picture via Gizmodo)

As an Amazon Associate I earn from qualifying purchases.