Mobile Home Brings Siri to Auto Hands Free Systems
Using Siri through a car's hands free Bluetooth system only works well with cars that support it. Enter the Mobile Home, not a cheap trailer house susceptible to high winds, but a device that connects to an iPhone via Bluetooth that adds Siri functionality to a car's hands free system.
Car owners can buy aftermarket Bluetooth head units that bring hands free Siri to a car, but they may cost $100-$200. Besides costing a lot, they require getting under the dash and re-wiring the vehicle's system. The Mobile Home ($79) doesn't force me to wire anything.
Mobile Home Functionality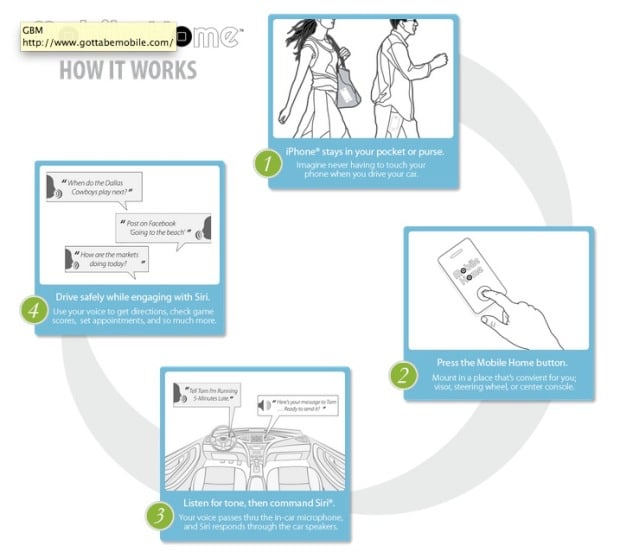 The Mobile Home connects to the iPhone via Bluetooth. The phone sees the Mobile Home as a keyboard, but it only comes with a home button. Many Bluetooth keyboards with home buttons engage Siri with a long press. When a user presses the home button on the Mobile Home the phone engages Siri and listens for the user's voice over the car's hands free system.
The Mobile Home comes as a tiny plastic black box about the size of a flip open lighter. A metal wire clip holds the Mobile Home to a car visor. It also comes with some velcro so users can instead fasten it to a dash or steering wheel. The black plastic case feels flimsy. Taking off the battery cover on the back took some force and I was afraid I'd break it.
Pairing was a bit tricky because I didn't read the directions carefully enough. The Mobile Home enters pairing mode, not by holding down the large home button, but by pressing the clear narrow strip at the top of the front side of the Mobile Home. It doubles as the indicator light. The device paired quickly and easily.
Recommendation
Mobile Home works as advertised, but do we really need it? For $79 iPhone users can buy really nice iPhone mounts that also charge the phone. Plugs the USB cord from the phone into a car's USB interface to get audio playback through stereos that support USB playback.
We can't recommend the $79 Mobile Home. It's too expensive and feels like a cheep $30 product that people don't really need.
We found a similar product on Amazon that works with iPhone and Android for half the price from Kinivo. Another from Belkin costs $50. We haven't reviewed either, but that's the price we expect for a product like this.

This article may contain affiliate links. Click here for more details.