Mobile Hotspot Included in Verizon's iPad 4G LTE Data Plan
Update Below: Verizon Wireless Clarifies and Confirms.
As expected, Apple's new iPad 3rd generation tablet is available with sweet and speedy 4G LTE from Verizon Wireless and AT&T. Tim Cook also announced that customers will be able to use the tablet as a mobile hotspot as well — that's even better.
(Read: New iPad Supports 4G LTE for AT&T and Verizon)
Pricing for the 4G data plans (which remain month-to-month with no contract required) is the same as pricing for 3G on both carriers. So if you buy the Verizon Wireless model you can do 1GB/month for $20, 2GB @ $30, 5GB @ $50, and 10GB @ $80. This is the same as pricing for other tablets on the carrier except the iPad gets the special 1GB tier.
What I didn't see when I went looking for this is how much extra mobile hotspot costs. On Verizon, adding this feature on phones adds an extra $20/month but also an extra 2GB of data, meaning you can get up to 12GB in a month if you're willing to pay $100.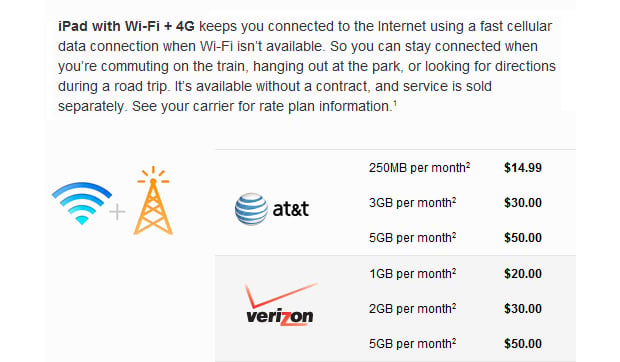 However, a Verizon Wireless spokesperson informed me that for tablets (including the new iPad), the mobile hotspot feature is included in the data plan's price. iPad owners won't have to pay extra to activate mobile hotspot, even with the 1GB plan.
Update — Verizon Wireless spokesperson Brenda Raney specifically said:
The tablet data plans include the mobile hotspot just as they do today. Data plans begin at 2GB for $30 and go to 10 GB for $80 and includes the mobile hot spot. The iPads have one additional option of 1GB for $20.
When I asked about the extra $20/2GB fee she further clarified that this is for smartphones only.
Another Verizon spokesperson confirmed to 9to5mac.com:
The new iPad on the Verizon Wireless network will have the mobile hotspot feature. Our 4G LTE tablets have the mobile hotspot feature and it is included in the tablet data plans so for example, customers who sign up for the $30 for 2GB plan will also have access to the mobile hotspot feature.
Mobile hotspot is confirmed.
(Read: New iPad: AT&T 4G LTE vs. Verizon 4G LTE)
This is great news for people who do a lot of traveling or working away from an office or the home. It also means that if you plan on having both a smartphone and a tablet, you shouldn't get the mobile hotspot feature for your phone. Since you can go month to month with the iPad, you won't have to lock yourself into a 2-year contract to get this benefit. Only buy the data plan when you think you'll need it.
I also asked AT&T the same question but haven't yet heard back. Currently, customers have to have a 5GB/month plan ($50) to even get the mobile hotspot feature. I'll update you when they answer.
Update 2: AT&T's Customer Care Twitter account says that the mobile hotspot feature will not be available for AT&T iPad 3rd gen. (also via 9to5Mac)
Given that Verizon's customer service Twitter didn't really know if the hotspot feature would be available or not, it could be that AT&T's Twitter employee might be confused. however, i've reached out to AT&T multiple tims and haven't yet received an answer. The silence is telling.

As an Amazon Associate I earn from qualifying purchases.