Mobile Payment Joint Venture Details Expected As Early As Today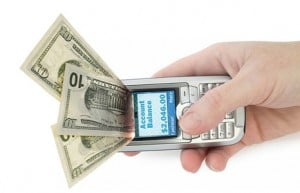 The Wall Street Journal is reporting that details can emerge about a joint venture for mobile payments as early as today, Tuesday. The joint venture is formed by a coalition of wireless carriers in the U.S.–T-Mobile, Verizon Wireless, and AT&T–and also credit card issuers Discover and Barclays PLC.
The venture will be led by former GE Capital marketing head Michael Abbott, who provides a neutral role from not being involved with any of the carriers.
While mobile payments–using cell phones to pay for goods–have existed for years in other countries, the system has not gained momentum in the past in the U.S. Now, with the emerging role of smartphones and the rising trend towards convergence, cell phone carriers are looking at ways to integrate cellular devices into more aspects of life. In the case of mobile payments, carriers are hoping that users will want to forego their wallets filled with plastic credit cards and currencies in favor of paying for goods with cell phones.
Companies are experimenting with a number of payment methods. One method is through the use of NFC chips, or near-field communication chips. With embedded NFC chips inside a phone or phone case, users can either tap or wave their phones in front of an NFC reader and pay for goods that way rather than having to swipe a credit or debit card. Another method, which AT&T is experimenting with, involves carrier billing. Like single log-ins such as Amazon's or Paypal's single ID, users can pay for online goods with their cell phone number and charges will appear on their phone bills.
While cell phone carriers are experimenting with mobile-payments, credit card issuers are doing the same with their own trials. Visa, American Express, and MasterCard are all playing with different ideas to capitalize on the market, which may or may not include cell phone carriers themselves. In the case of credit card issuers, if they can get an NFC chip in a cell phone case, memory card, or cell phone, and link it with a credit account, charges can connect that way, similar to linking a credit card number with an account.
Various cell phone makers are also planning on broader NFC integration. Nokia has been integrating NFC in select handsets for years, and now the technology may make it to more Nokia smartphones. Research in Motion is said to be integrating NFC into its next-generation BlackBerry smartphones to be released next year. Google's chief showed off an NFC-equipped Nexus S at the Web 2.0 Summit, and Apple may have its own plans for NFC and mobile payment considering the company already has credit cards tied to user's iTunes accounts. A recent Apple patent also shows off an NFC-equipped iPhone having the capability to talk to nearby Macs to load up saved OS X settings from your home so you can re-create your desktop with settings, wallpapers, and preferences on a near-by Mac when you're away from home.
With all the technology maturing, the question remains now on who will control the revenues, how will costs be divided, and what liabilities are there and who will shoulder them. With titans in the telco business and the banking business working side-by-side, these issues must be ironed out before we can see a mobile payment plan being rolled out.
With cell phones being so accessible, I'm really wondering if this will lead Americans to a new era of debt. Credit cards have been blamed as a cause of debt; as swiping a credit card already doesn't feel like spending cash making impulsive purchases all that much more easier, would waving a cell phone in front of an NFC scanner be even less like cash and lead to more consumption? One thing's for sure–losing a cell phone will be as painful as losing the equivalent of a mobile computer and your wallet in the digital world of tomorrow.