Mobile PC's – Interesting usage ideas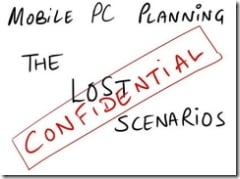 From the blog of Vikram Madan come some very interesting ideas of Mobile PC usage:
Last year I had the good fortune of participating in some project planning activities related to understanding the future of the Mobile PC in an ever-increasingly-mobile world. Part of this effort involved cataloging new and interesting usage scenarios for Mobile PCs (basically going where no Mobile PC has ever gone before). Given how integral mobility is to all our lives, it was only a short time before we were oozing out of our ears with potential new Mobile PC scenarios. So much so that an important, ground-breaking subset of these scenarios was at risk of getting 'lost in the crowd'. Thankfully, not only was I able to capture these scenarios before they disappeared, I am now also able to share them with you, the devoted reader.
View the blog post for some interesting cartoon's regarding the future of Tablet PC's and UMPC's

As an Amazon Associate I earn from qualifying purchases.