Mobile-Review Sheds Light On Crossbow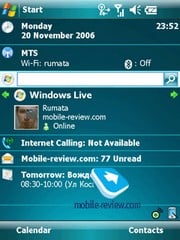 Many GBM readers are also avid users of Pocket PCs, smartphones, and other converged devices, so this should be of interest. Mobile-Review checks out the next version of the Windows Mobile OS, code-named Crossbow. From the review, it looks like there are indeed improvements and new features, although the review states several times that this isn't the complete make-over that Windows Mobile 5.0 was, and that we'll have to wait for the next version, code-name Photon. (There is still a dividing line between smartphones and and Pocket PCs.)
For Pocket PC folks, here's what the review lists as the major changes:
Revamped outlook, refined icons;
Totally re-mastered sound theme;
Increased interface speed;
Bundled IP-telephony (VoIP, SIP standard);
Smart Dial 2.0, fast search through contacts, call history; removable on-screen virtual keyboard;
Any tune can be assigned to any event;
Support for shortcuts in Outlook Mobile;
Full-fledged meetings arrangement system;
Support for HTML in messages;
Smart Filter – handy and fast search through messages;
Numerous MS Exchange 2007-tailored changes;
Integration with Windows Live online-services;
Marketplace – purchase, download, and install directly from the device;
Encryption – bundled memory card encryption
Check out the full review here.

This article may contain affiliate links. Click here for more details.