Mobile Tech and Being in Two Places at the Same Time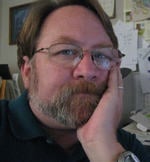 I'm about to start two weeks of having to literally be in two places at the same time, directing two different shows, for two different theatres, in two states. I think I need to clone myself, but I tried that last night and it didn't work. Instead, I'm working on a strategy that can help me get things done in both places as effectively as possible. Here's how I'm setting myself up, and in few weeks we'll see how and if my strategy works or not.
First some background. The reason I'm spending the next two weeks doubling up is one of economics. The theatre I run, Wayside Theatre, has been struggling since the economic downturn of last fall. We've managed to work through some dire challenges and keep the doors open, but it hasn't been easy. And honestly, there's no guarantee that we'll manage to survive in the long run, but we keep plugging away. We've been given an opportunity to remount our production of Cotton Patch Gospel which closed our 47th Season, at one of our sister theatres, Totem Pole Playhouse. The catch is that we have to start rehearsals on the remount at the same time we start rehearsals for our Season 48 opening production of Man of La Mancha. Cotton Patch opens on May 30 and Man of La Mancha on June 6. It promises to be a hectic and grueling few weeks, but given our struggles this year, we need to take advantage of the opportunity.
The two theatres are about 80 miles apart and my music director and I will be spending each day for the next two weeks driving back and forth as we rehearse during the day in one location and in the evening at the other. Fortunately, Cotton Patch Gospel is a remount of something we just did, so most of our work is adjusting to the new space. Man of La Mancha is a larger production and includes the influx of new company members to Wayside Theatre. So, suffice it to say, I'll be getting little sleep as I speed up and down I-81 between Virginia and Pennsylvania.
From a mobile tech perspective I've got several goals I've set for this time period.
Communication
Note taking
Preparation
Conducting Rehearsls
Keeping up with running Wayside Theatre in my absence
I've been shifting my tool set quite a bit of late to take advantage of the fact that I won't be spending much time at a desk. I've ruled some things in and some things out, and I've also built some redundancies into my work flow.
For note taking and primary work flow I'll be relying on an HP 2730p Tablet PC, as my primary tool, running the Release Candidate of Windows 7. In both situations I will be taking a lot of notes, and this will be done in Evernote. This way, all the notes I take will be synced up with other computers and also my iPhone.
I thought long and hard about picking up a new Netbook for this work and using that in combination with the HP Tablet PC, but there is no point in having two devices in this situation. I though similarly about picking up a Viliv S5 (timing would have ultimately prevented that) but the same principle of redundancy applies in terms of the number of devices. I need to take written notes and we know that until the Asus T91 debuts, there isn't a Netbook sized form factor that can handle Inking. While the Viliv does have a touch screen the small screen size does not look to be conducive to that kind of work. Ah, for a device with a 7 to 10 inch screen that can handle Inking.
I also seriously examined the kind of work I will be doing, and though I could accomplish most of my tasks on a Netbook, given the pressure of time and the prospect of having to crunch some audio and video, I felt I needed the oomph of a full flavored notebook/Tablet PC.
For communication the iPhone is my primary device these days for a number of chores that include phone calls, text messaging, social networking, and web browsing. It will certainly handle those chores. I'll also be using a Sierra Wireless Compass 597 USB modem for 3G access on the Tablet. I'd love to be trying out a MiFi card during this adventure, but alas, Sprint isn't making their version available for purchase until June, and I'm not going to add a Verizon contract to my expenses just for the sake of trying it out. If anyone at Sprint wants to send along a evaluation unit, I promise to give it a good work out (hint, hint).
As far as software is concerned, my email needs are now handled by GMail. I rarely open Outlook anymore and use the web interface. Now that said, GMail has had some ups and downs lately, and I've got a few other POP email accounts I can use if I need to. To set them up as a backup, I had to disassociate them from GMail (they were all funneling into that pipe) so that they were separate. I access a lot of email over the iPhone and it is inefficient to manage multiple email accounts on that device, but that's a compromise I'm willing to make begrudgingly.
For document creation I'll be using Microsoft Word and Microsoft Excel. Try as I might I have not been able to move to Google Docs or Zoho or another cloud alternative. They just don't feel right to me, and when I'm on a tear writing (which usually happens late at night) I need to feel comfortable with what I'm doing. I'm not going to try and force that in a stressful work situation like this so those tools will remain in use. We use Google Calendar at work to keep up with each others schedules and that will be a mainstay for us during these two weeks.
On the iPhone I have a few apps set up to deal with some specific tasks during this period. Gas Cubby will allow me to keep up with mileage and gas purchases for reimbursement. We've got a Flickr account set up so that my staff at Wayside can upload pictures of work they may need a response to and I can view those pictures through Flickr's iPhone web app. Again, Evernote's iPhone app will come in handy as a place for me to dictate voice notes to as I'm driving back and forth. I've got a shared notebook set up for staff to share those notes as well.
For file storage and sharing beyond notes, we're using two different methods. We've got Windows Live Mesh set up with shared folders for documents that need to be shared and we're also using shared folders on the Pogoplug. The latter is being used as a backup and also a test to see how well that works. I'm also going to be testing QuickOffice on the iPhone which uses Apple's MobileMe service to sync files to see how that works, although I find the version 1 of that app to be a bit clunky and I don't plan on relying on it.
In the Car
As usual when I have to be on the road in a car, I and my staff will work to maximize that time for returning phone calls. Using my Jawbone Bluetooth headset makes this possible (I've ordered a new Jawbone Prime, but alas there seems to be a delay in filling orders so that isn't going to get tested out here.)   But it it isn't all work in the car. I'll most likely fall behind on listening to Podcasts, but I am really enjoying listening to audiobooks via Audible and I have a few downloaded and ready to give a listen to.   Speaking of books, I'll also be using the Kindle App on the iPhone to do some book reading if I have a few moments here and there. While the iPhone screen is small for extended periods of reading, it suffices if you're catching things a little here and there and for the moment it serves me without having to purchase a Kindle. I know this driving route really well, so there is no need for a GPS on the main trip, but I'll be using Google Maps on the iPhone in case I need to do some local traveling while in Pennsylvania.
Some Accessories
I'll be using my old standby the Monster Outlets to Go for providing some extra outlets when I need to plug in. I'll also be using the Mophie Juice Pack for the iPhone 3G (not the newer Air-curiously we were promised a review unit but we haven't seen one and emails continue to go unanswered) to provide some extra juice for the iPhone when needed. I rarely run out of battery on the iPhone but on a heavy day this keeps me going until I can plug in. The Shwamee Microfiber Cleaning Cloth will accompany me as well for keeping screens clean.
General Thinking
Lately, if I can't access it on my iPhone, a solution just doesn't work for me. All of the solutions I've mentioned above allow me to access the data on my iPhone when I need to, including my Ink notes in Evernote. While I still enjoy taking notes on a Tablet PC and can't ever imagine myself not doing so, I find that I'm better on the run with the iPhone when I need to work through issues.
So there you have it. I've tried to think ahead and cover the kind of work I need to do, and I've tried to be honest with myself about what tools I really need to get that done. Of course the real test always come when the unexpected comes your way, so we'll see how that works out.
A Note to GBM Readers: If you've read this post you can surmise that this will be a very intense few weeks in my regular work at Wayside Theatre. This means that until after June 7, I'll most likely be more absent than present around the pages of GBM. I certainly hope you understand. I'm sure I'll manage a post or two about some of the things that will be going on, and I'll be posting more specificially about the work on the plays on my personal blog if you're interested. I'm sure I'll be using Twitter and Friendfeed as well.   Of course when all is said and done, I'll let you know how my strategy worked or didn't.
After I sleep for a few days that is.